How to Read Road Signs in the UAE
Traffic signs are there for a number of reasons. They are there to inform the drivers of the speed limit or remind them to fasten the seat belt. They may also have information related to the road or turn ahead. If you're new to the country, it's useful to know about the road traffic signs. From basic road signs to parking signs, let's understand what important UAE traffic signs mean.
Mandatory Traffic Signs
Evident from its name, mandatory traffic signs inform drivers' particular course on actions they need to take on particular UAE roads and follow certain speed limits. Examples of mandatory traffic signs include: turn right only, ahead only, pass either side, 60km/h minimum speed freeway, travel in the direction of arrows around the roundabout, keep right and keep left.
Control Signs
Control signs are easy to read, they indicate the direction of travel, right of way (the legal right of pedestrians and other vehicles on the road) and prohibition from entering certain roads. Control signs followed in the UAE include: you must give way to pedestrians, you must give way, you must not enter this road, you must stop and you must go this way (ahead, left or right) signs.
Parking Control Signs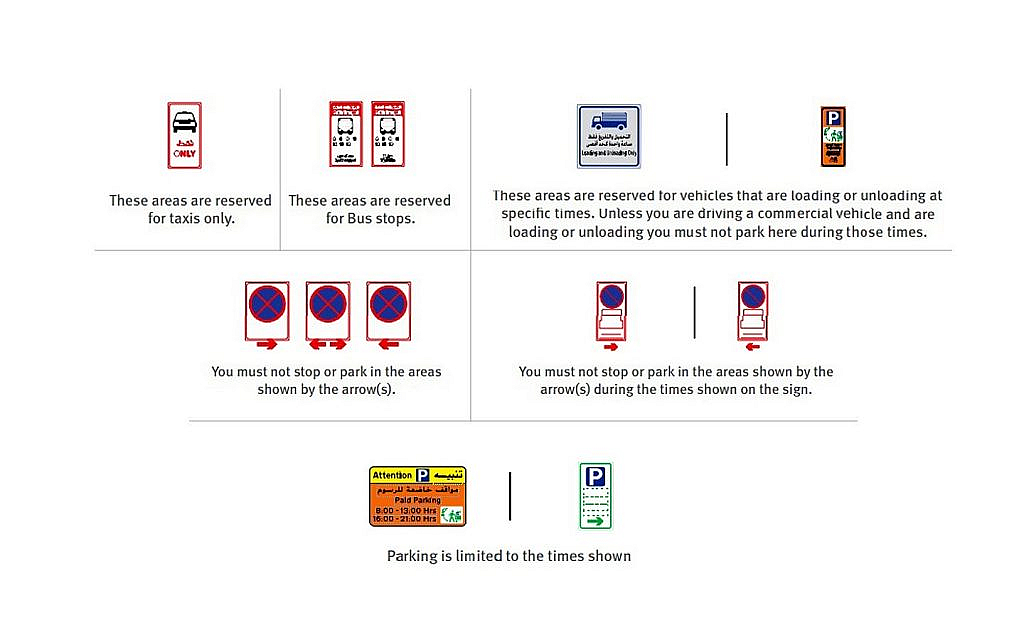 Parking control signs let drivers know where they can park their vehicles and where they cannot. They also provide time restrictions, in simple terms the time duration of how long your vehicle can be parked in a zone is mentioned on these signs.
Then, there are some areas where you cannot park, even if the driver is sitting in the car, they can't stop or park in such areas. Parking control signs also signify parking slots reserved for certain types of vehicles such as taxis, buses and commercial vehicles – light vehicles cannot be parked in these areas.
Some common examples of parking control signs in the UAE include: parking, parking area reserved for taxis only, reserved for buses only, reserved for loading/unloading vehicles only at specific times, paid parking – limited to the times shown and meter parking on side road among others.
Handicapped Parking
The UAE offers driving facilities for the people of determination. A blue P with a person in a wheelchair is the parking sign for handicapped drivers. The parking area is marked as "parking area for handicapped drivers only". People with special needs must obtain a permit and display it when parking in the area. Without the permit, they won't be allowed to park in the space allocated for them.
Freeway Controlled Signs
These signs specify which roads are classified as freeways. The signs show the start and end of a freeway.
Prohibitory Road Signs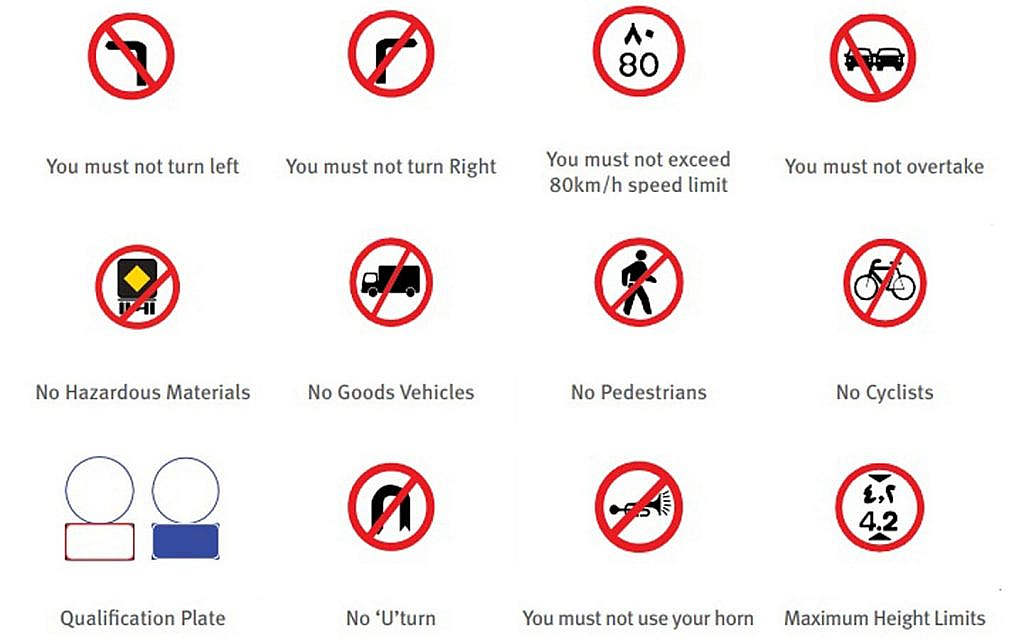 Prohibitory signs specific actions that drivers are not supposed to do while on the road, in other words, these signs prohibit drivers to take certain actions. Examples of signs prohibiting drivers include: not taking a left turn, not taking a right turn, not overtaking, not exceeding the 80km/h speed limit, not using the horn and not using hazardous materials. Some other signs indicate no goods vehicles, no pedestrians, no cyclists, qualification plate, no U-turn and maximum heights limits.
Trailblazing Guide Signs
Trailblazing signs are placed on the road to make sure drivers are on the right road meant for their destination. You can spot these signs on highways and other busy roads of different emirates. Examples include a picture sign with an aeroplane – this sign indicates the direction to Dubai International Airport, signs indicating freeways and major Emirates routes, Dubai routes, city centre central and tourist destination description.
Guide Signs
Evident from its name, these signs give direction. The signs provide information about route numbers, street names and destinations. The text on Guide signs is in Arabic and English languages.
Different colours are used in guide signs. This is what each colour indicates:
• Blue – Can be found on national routes and include the Emirates route symbol
• Green – Can be found on local Dubai routes and include the emblem for the Dubai route
• White – They show local roads, points or destinations
• Brown – provide additional information, sometimes with symbols to describe a specific destination
Advance Guide Signs
The advanced guide sign includes route emblems (local Dubai or national routes), trailblazing symbols (pointing towards the left, ahead and right directions) and directional information.
Exit Direction Signs
These signs direct drivers about proper lanes that need to be taken prior to exit. The white exit panel means that a particular lane is moving away from the mainline and has to be dropped. The image above will help understand the meaning of each sign.
Warning Signs
Warning signs are important UAE traffic signs. These signs alert users about potentially hazardous conditions or they specify upcoming road junctions that may not be apparent to drivers without the presence of these signs.
Warning signs are made in different designs, however, most are designed in a triangle consisting of a thick red border and a symbol with a white background. Warning signs are divided into three segments:
Advanced warning signs
Hazard marker signs
Diagrammatic warning signs
Advanced Warning Signs
These signs warn road users of hazards or potential hazards. Common advanced warnings include traffic signs ahead, stop sign ahead, give way sign ahead, roundabout, T intersection sign, a sign about an intersection ahead, two-way traffic, pedestrian crossing, maximum headroom at hazard ahead, signs signifying curves or bends in the road (so that drivers practice caution) including curve in the road that goes to the left, curve/bend in the road to the right, and signs indicating U-turn ahead, among others.
Diagrammatic Warning Signs
When the regular triangle-shaped advanced warning sign isn't big enough to draw attention to a hazard ahead, diagrammatic signs are used. You can find these signs on high-speed roads. Diagrammatic warning signs fall into the following general categories:
• An obstruction affecting the traffic movement is affected by an obstruction (the obstruction may be real or anticipated)
• Additional lane is added ahead
• Regulated use of a lane (for example a trucks only lane)
• Lanes merge
Hazard Marker Signs
Hazard marker signs detect physical hazards ahead on the road, such as a bridge structure, guardrails or traffic islands. Hazard marker signs indicate: hazard plate, hazard marker, single chevron right, single chevron left, multiple chevrons right, multiple chevrons left, and T-junction chevron.
Other Important UAE Traffic Signs
Other important UAE traffic signs indicate no turning for lorries, road clear, no through road, priority over vehicles from opposite direction, parking, hospital, countdown markers, supplementary information signs, parking for Diplomat cars only signs, diversion of traffic route, reflective marker posts indicating the edge of the carriageway, lane ahead open sign, lane ahead close sign and reduce speed now sign.
We explained all the important UAE traffic signs in detail. If you weren't aware of some or had forgotten about them, consider this guide as a refresher! And feel free to revisit frequently to keep your memory of traffic signs fresh.
Besides if you are looking for a car to drive on the roads of the country, take a look at these used cars for sale in the UAE.
Stay tuned to UAE's top car blog for more on UAE traffic signs, rules and regulations, fines on violations and other informational blogs on everything autos.
whatsapp