All You Need to Know about Sky Pod Sharjah
Traffic congestion is a major problem in busy urban areas. Mass-transit solutions and upcoming transportation projects are expected to tackle the problem. In Sharjah, the solution is now in the form of electrically powered pods. Sharjah unveiled its very first electric, high-speed sky pod network in 2021.
Sky Pod Sharjah is a project of a Belarus-based company, Unitsky String Technologies, operating as USky in the UAE. Here is all you need to know about this high-speed transportation project.
Sharjah Sky Pod Project – The Details
A 400 metre suspended test track in the Sharjah Research, Technology and Innovation Park (SRTI) opened to the public in 2021. The pilot Sky Pod project was unveiled in June 2021. The initial safety trials are complete.
Sharjah sky pods also known as UCars, operate on string rail technology, travelling at a speed of up to 50 km per hour. Each electrically-powered pod can accommodate four people at a time. These electrical pods can travel the nascent track within a minute and are built to tolerate Middle East's extreme climate conditions.
In the next phase, the project will witness a 2 km track and sky pods will have a travel speed of up to 150 km per hour.
From the outside, the suspended Sharjah Sky Pods are shiny and white with AI-powered cameras to avoid collisions. On the inside, the pods have an interior resembling an airline's first-class suite. Interior features include lounge music, leather seating, mood lighting and windows from floor to ceiling.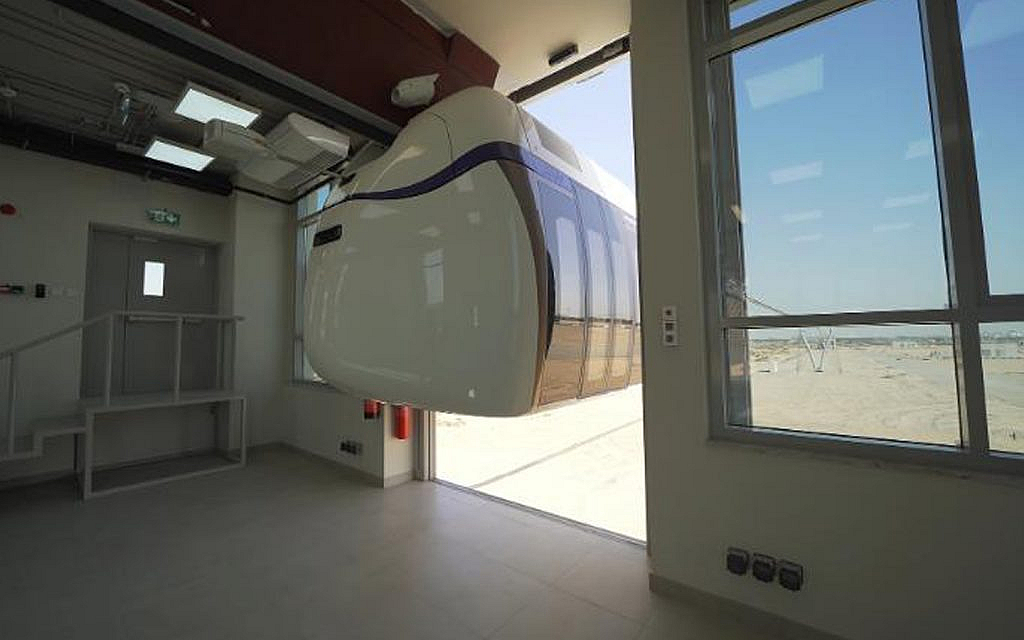 Sky Pod Sharjah has two padded armchairs in addition to two foldable seats. These electrically powered pods consist of impellers that blow off the dust from the rails. The track on which these pods travel consists of lightweight ropes made of steel. Several braking points are also in place with an anti-derailment system to make sure the pods remain safe during an emergency.
Moreover, the electric emergency batteries are powered partially by renewable energy, making the project's carbon footprint lower than traditional transportation systems.
According to USky, the operating cost for Sky Pod Sharjah project is going to be almost half of the investment needed for conventional railway transport and it is also going to be less than a third of the amount needed for developing and maintaining a road covering a similar distance.
Making a Difference in Public Transport
Electrical powered transport pods that travel above the ground or sky pods, similar to cable cars or monorails, will improve the public transport in Sharjah manifolds. The sky pod Sharjah project powered by the Sharjah Government will help preserve land for greener spaces and develop more pedestrian walkways and real estate projects.
To show the potential of string-rail transport, Unitsky String Technology (UST) designed high-speed passenger pods suspended on a track above the desert in Sharjah at the Sharjah Research, Technology and Innovation Park.
The Sharjah Sky pods have already earned success in wind-tunnel tests and designers are confident that a longer track will allow further progression of the technology.
Future Expansion Plans
In the future, as the third phase, the suspended sky pods in Sharjah are expected to be used in cargo transportation and passenger logistics. The cargo model is expected to be a 12-metre container with the ability to carry up to 25 tonnes at a time at a speed of 130 kmph. This will reduce the need for cargo trucks that generally clog up the roads.
With the test Sharjah sky pod test line in action, USky also received initial approval to build a line around the coastal town of Khor Fakkan, towards Sharjah's east and other options within the city. The company expects to complete another 2.4 km track by May 2022.
In the times to come, the new track will enable passenger pods to run at higher speeds demonstrating the integration of cargo and passenger-carrying pods into the same network.
The power-efficient system plans on giving transport solutions for both within the city and outside.
Moreover, Dubai is also working on its own high-tech transport sky pod project powered by the RTA.
USky expects sky pods to be running over road traffic in Sharjah by 2024. However, several regulatory requirements are required to be met before this technology is commercialised.
Hussain Al Mahmoudi, CEO of the Sharjah Research Technology and Innovation Park hopes these sky pods solve challenges related to road congestion. These pods will use less energy, less land, be more efficient and be completely environmentally friendly.
The high-speed sky pod technology can be used throughout the world overland, sea, or even in the mountains. Sky pods are looking like the future of efficient and effective transportation solutions.
Stay tuned to your favourite cars blog for more on effective transportation solutions.
whatsapp