All about Sharjah Taxi Booking
Hiring a taxi in Sharjah is an excellent way to explore the emirate. There are various ways to book a taxi in Sharjah. Here is all you need to know about Sharjah taxi booking.
How to book a taxi in Sharjah
As opposed to how RTA manages taxis in Dubai, privately licensed operators manage taxis in Sharjah. However, there are four companies currently providing taxi services in the Emirate under the supervision of Sharjah Road and Transport Authority (SRTA).
This franchise model with more than 5000 cars operating creates a competitive environment to improve the service.
You can book a taxi in Sharjah in the following ways:
Phone for Sharjah Taxi Booking
You can simply book a taxi in Sharjah on a call. For Sharjah taxi booking by phone, make a call at 600-525-252. The SRTA ensures safety and customer service standards are maintained by vigilant monitoring.
Taxi Butler Sharjah Taxi Booking
The SRTA has made calling taxis only a click away by installing gadgets in around 60 places across Sharjah. These locations include malls, police stations and various other public places. Known as the Taxi Butler, the service assigns you the nearest available taxi. You just have to click the taxi gadget and the number plate and ETA will appear on the screen for you to note while the driver will receive an intimation.
Booking a Ladies-only Taxi in Sharjah
In Sharjah, you can also request a ladies-only taxi. This option is available only for women transportation and you can avail it by calling at 600-525-252 and making a request. Also, you can ask for a special taxi for people of determination.
Booking an Airport Taxi in Sharjah
To make travelling and reaching destinations easier from the airport, special airport taxis are available for Sharjah airport taxi booking. You can easily find them at the arrival terminal of the Sharjah International Airport. However, these cost an extra AED 20. The usual fare for a one-way trip from the airport to the city centre amounts to AED 50 to 60.
Moreover, women can get ladies-only taxis from the airport in Sharjah.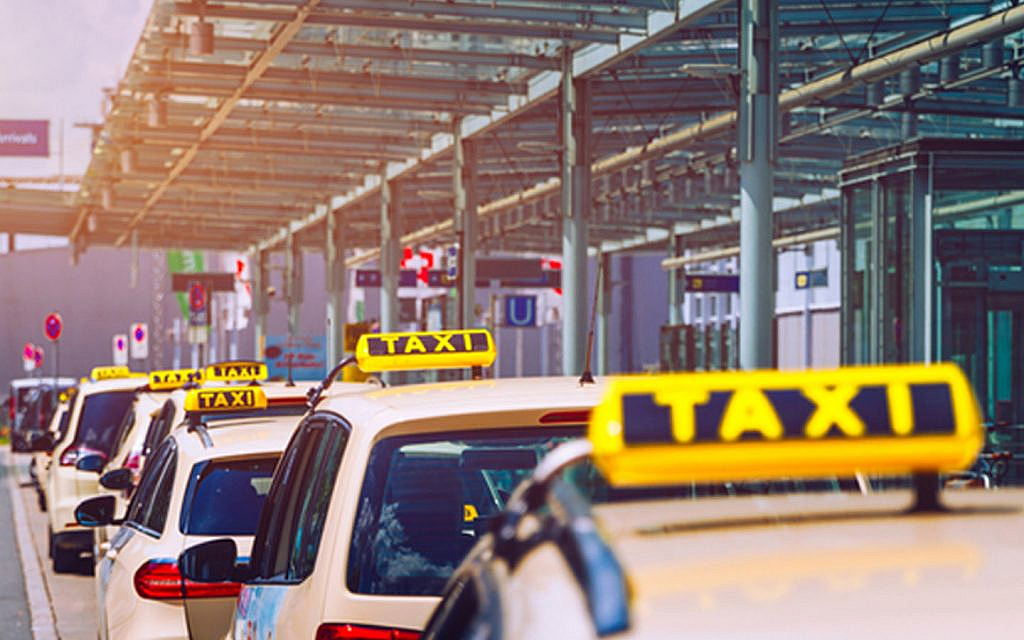 Sharjah Taxi Fare
The Sharjah taxi booking charges are calculated as per the government approved rates. These are:
Category

Fare

06:00 AM – 11:59 PM

Fare

AED 3

12:00 PM – 05:59 AM

Fare

AED 4

Minimum Charge

Fare

AED 10

Airport Charge

Fare

AED 20

Extra fare for other emirates like Dubai, Abu Dhabi or Al Ain

Fare

AED 20

Charges for every 0.155 km

Fare

AED 0.25

First 10 waiting minutes

Fare

Free

Additional waiting minute

Fare

AED 0.50 per minute

Metre charge

Fare

AED 1.50
Rights and Responsibilities of Passengers
There are a few rights and responsibilities of the passengers set by the Sharjah government.
Rights of the Passengers
Selection of route
Vehicle cleanliness
Taxi metre checking
Right to not pay any extra amount as tip
Air conditioning to be either switched on or off
Request the driver for photo identity card
Ask for the receipt at the journey's end
Call the helpline in case of any lost item in the vehicle
In case of meter malfunctioning, a passenger doesn't have to pay any charges
Responsibilities
Should always pay the complete fare
Should pay for the toll charges
Must wear the seat belt
Must not bring any edible items in the taxi
Must not cause any damage to the vehicle
Only request stops at safe spots and where stopping is legally allowed
Must not put any promotional item in the taxi
Sharjah Taxi service offers convenience, safety and comfort. However, for more travelling options in the emirate, you can opt for Sharjah public transportation or buy a car of your choice. Check out these used cars for sale in Sharjah to browse through a variety of different vehicles.
Stay tuned to the UAE's top auto blog for more information on travelling in Sharjah.
whatsapp