Salik is the electronic toll gate system facilitating smooth traffic flow on the roads of Dubai. Launched on July 1st 2007, Salik – literally meaning 'clear and moving' – allows drivers to leave and enter the emirate without hassle. Since its launch, the Road and Transport Authority (RTA) Dubai has strived to improve the system and streamline all the processes. From recharging Salik in Dubai to its payment, everything can be managed through multiple online and offline channels.
Here is a detailed guide covering everything you need to know about Salik Dubai. Let's start with the location of Salik gates in Dubai.
Salik Gates in Dubai
The toll gates, their location, cost are summarized below along with Salik timings in Dubai for these gates:
Dubai Salik Gate

Toll Gate Location

Salik Cost

Salik Timing

Al Barsha Salik Gate

Toll Gate Location

Sheikh Zayed Road

Salik Cost

AED 4

Salik Timing

24 hours

Al Safa Salik Gate

Toll Gate Location

Sheikh Zayed Road

Salik Cost

AED 4

Salik Timing

24 hours

Al Garhoud Salik Gate

Toll Gate Location

Al Garhoud Bridge

Salik Cost

AED 4

Salik Timing

24 hours

Al Mamzar North Salik Gate

Toll Gate Location

Al Ittihad Street

Salik Cost

AED 4

Salik Timing

24 hours

Al Mamzar South Salik Gate

Toll Gate Location

Al Ittihad Street

Salik Cost

AED 4

Salik Timing

24 hours

Airport Tunnel Salik Gate

Toll Gate Location

Beirut Street

Salik Cost

AED 4

Salik Timing

24 hours

Jebel Ali Salik Gate

Toll Gate Location

Sheikh Zayed Road

Salik Cost

AED 4

Salik Timing

24 hours

Al Maktoum Salik Gate

Toll Gate Location

Al Maktoum Bridge

Salik Cost

AED 4

Salik Timing

24 hours all other days but free from 10:00 pm Thursday to 6:00 am Saturday
Please note, if you pass through Al Mamzar North and Al Mamzar South toll gates in one direction, without crossing the highway in between the gates in one hour then you will be charged only once. Also, trips through Salik gates are charged during the holidays and for 24/7 hrs. Dubai Salik free timings are from 10:00 p.m. till 6 :00 am on weekdays and from Thursday 10:00 p.m. till Saturday 6:00 a.m only on only Al Maktoum bridge toll gate.
Dubai Salik Map
How does Salik work?
Salik Dubai utilises the RFID or Radio Frequency Identification technology to charge toll fees. All you have to do is purchase a Salik tag and RFID installed at various Salik toll points will detect and scan it. Every time your car passes through a Salik gate, the fee is deducted from your prepaid toll account automatically. Moreover, Salik account holders are responsible for paying for each trip through toll points regardless of who the driver is.
What is a Salik Tag?
It is a sticker tag responsible for the accurate identification of a vehicle by the system. Drivers need to stick the tag to the windshield of the vehicle, around 1 cm under the rear-view mirror. The Salik sensor detects this sticker linked to the prepaid Salik account.
The sensor pings the sticker every time the vehicle crosses a tollgate, and a fee is deducted from the prepaid account.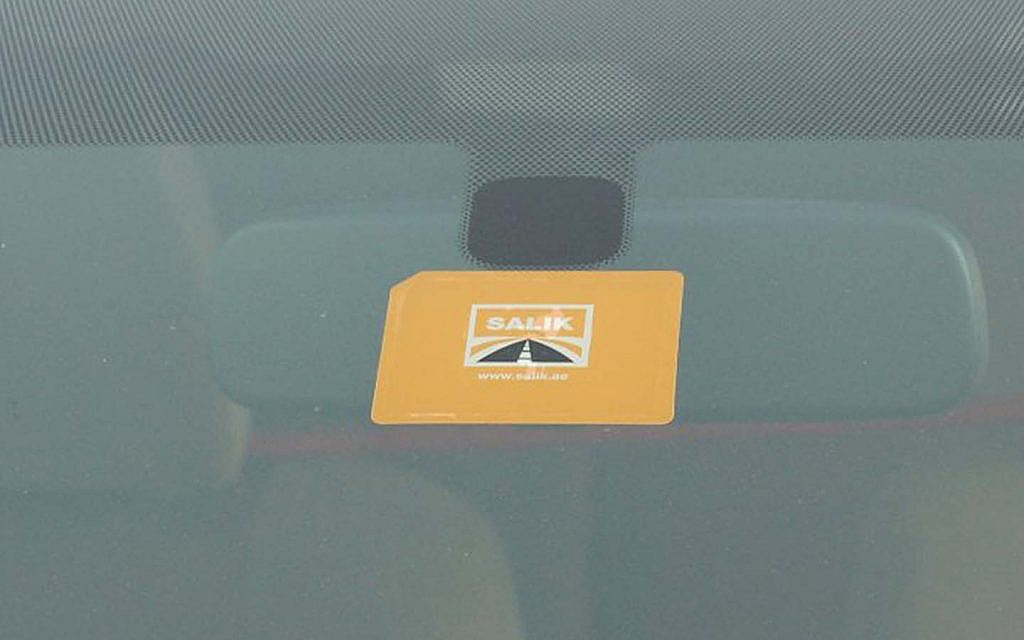 How to get a Salik Tag
Since the Salik system works with a Salik tag, you need to get one. This will require you to fill a registration form available at several locations throughout the city, including:
RTA Customer Service Centres
Petrol stations such as EPPCO/ ENOC, Emarat and ADNOC petrol stations
Banks such as Emirates NBD Bank and Dubai Islamic Bank branches
How to register Salik
As you are required to register for a Salik tag, here is a brief breakdown of the process:
Fill out the registration form available at any of RTA Salik outlets. You can also apply online.
After you submit the required documents, fees along this form, the authorities verify the information before handing you the Salik kit that contains the tag.
You fix the tag on the windshield of your car
Once your information is in the RTA's system, you will receive your PIN and account number via an SMS. Use the credentials to access your Salik account.
If you are already registered and only need the tag, you can get it online by visiting salik.ae.
You can use the Salik to travel through the gates right after installing the tag. Since account activation takes around 2 days, the fee for these days will be added to be deducted from your account later. In case there is no confirmation SMS within 10 days of registration, get in touch with the authorities.
RTA registers only a single user Salik account for all the tags issued to you for any vehicle registered in your name. This means even if you have multiple cars registered, you will have a single Salik account for them. Only if your other car is registered in another emirate can you have a separate account.
Documents required for Salik registration
You are required to submit a few documents to receive your Salik in Dubai. These are given below:
Identification documents
A copy of the car registration card
A copy of the trade license in case of registered companies
Salik Dubai Cost
The exact cost of the Salik varies based on whether you are getting it online or from a store. If you buy from an RTA designated spot, it will cost you AED 100. The Salik tag fee is AED 50 and the remaining AED 50 is added to your account.
If you buy the Salik tag in Dubai online then the cost is AED 120. This includes AED 50 for the tag, AED 50 as prepaid balance and AED 20 for delivery since the tag is delivered to your home. In case you opt to get your Salik tag online, always check if the Salik delivery team covers your area or not.
How to top up Salik Credit
You can add credit to your Salik account either through any of the RTA designated Salik stores or online. Regular notifications are sent via SMS to the subscribers when their accounts need to be topped up. For adding credit online, simply log on to www.salik.gov.ae and follow the instructions.
Other options for recharging the Salik account are:
Toll free number: you can call at 800-SALIK (72545) toll free number
Salik top-up card: You can buy from any Dubai petrol station, via the MPay app or any of the various smart kiosks situated around the city.
Please remember you need to have a minimum recharge of AED 50.
Salik Violations
RTA, Dubai has set a few rules to be followed to ensure the Salik system is implemented in the city effectively. Therefore, Salik violations can lead to penalties, which are mentioned in the table below:
Violation

Description

Penalty

ISF Violation – Insufficient Funds

Description

Passing a Salik toll gate with insufficient credit and failing to recharge in the next five days

Penalty

AED 50 penalty

URP Violation – Unregistered Plate

Description

Passing a Salik gate with no registered tag on and not buying/registering one with within the next 10 days

Penalty

AED 100 for first time, AED 200 for second time, AED 400 for each subsequent time
Note: If you travel through multiple times during the day, there is one violation per day maximum.
Exemption from Salik Toll Fee
Some of the vehicles do not have to pay any toll fee when passing through a checkpoint as per the rules of the Road and Transport Authority (RTA), Dubai. These are:
Military vehicle
Ambulance
Police vehicle
RTA public bus
College bus
School bus
Those under the category 'Determined Ones'
How to avoid Salik Dubai
Some people may not want to spend their precious money on Salik charges or do not have a Salik as yet. Fortunately, there are certain routes across the city that can help them avoid Salik in Dubai. Given below are a few routes you can opt for to avoid toll gates in the city:
E311/ Sheikh Mohammed Bin Zayed Road: This road is viable for avoiding the Jebel Ali Salik Gate, Al Safa Salik Gate and Al Barsha Salik Gate. This is also helpful if you want to avoid the toll booths traveling from Abu Dhabi to Dubai. The residents of the neighbourhoods on Al Barsha, Sheikh Zayed Road and Jebel Ali use this route quite often.
Floating Bridge: This route is excellent to avoid the Al Maktoum Salik Gate and Al Garhoud Salik Gate
Business Bay Crossing: You can use this route to evade the Al Garhoud Salik Gate
D 83/Rebat Street: This is a free road you can use to escape the Airport Tunnel Salik Gate
Al Wahda Street, Al Damascus Street, or E311/ Sheikh Mohammed Bin Zayed Road are used to avoid the Al Mamzar North & South Salik Gate.
You can use Google Maps to identify all such routes where Salik is free. Select the 'Avoid Tolls' option when choosing the route.
Salik Guidelines
Furthermore, there are a few practices to avoid and others to adopt when using Salik. These are summed below:
The Salik tag must be pasted on the vehicle to which it has been assigned on the Salik application.
It is not permissible to use the same tag on a different vehicle.
The authorities concerned should be informed if the vehicle's number plate or the user's/driver's mobile number changes.
Always buy a Salik tag and place it on the windshield of your car within the first 10 working days of using the system.
In case of insufficient funds, the Salik account should be recharged within 5 working days.
Salik system ensures smooth traffic on Dubai roads and is mandatory. If you are planning to buy a used car, make sure you get a Salik tag as it is not transferrable and every vehicle should have a separate tag.
Besides, if you can also park your vehicles for free during public holidays. For instance, the Road and Transportation Authority has announced free car parking in Dubai during Eil Al Adha 2022 break.
FAQS
How much is the Salik fee?
The Salik system deducts AED 4 on every pass you make through a designated point
Is it necessary to register a Salik account for every vehicle?
No. Even if you have more than one vehicle registered in your name, you have only one Traffic File Number. This Traffic File Number is used for one Salik account. However, if you own a vehicle in a different Emirate than Dubai, you can request to add it to your current account.
What to do if the Salik tag is stolen, damaged or lost?
If your Salik Tag is stolen or lost you must deactivate it immediately. Otherwise, you will be paying for any tolls on that tag. You can deactivate the tag at the official Salik website.
You can also call at Salik Dubai number on their 24 self-service on 800 Salik (72545)::
Choose the language, press 1 for Arabic and 2 for English
Press 3 for logging in to your account
Press 5 and modify the details
You can also visit a Salik customer service centre as well.
This ends our comprehensive guide on Salik Dubai where we also answered frequently answered questions about Salik Dubai. To save yourself from committing a Salik violation, get a Salik tag and stick it to the windshield of your car.
Stay tuned to the UAE's best auto blog for more information on Salik in other emirates.
whatsapp