All about People of Determination (PoD) Vehicle Features
The automotive industry has advanced over the years with the introduction of accessible features and technology. Similarly, automotive manufacturers have made vehicles accessible for people of determination with certain modifications. For instance, longer wheelbase, better legroom, and wheelchair accessibility.
Besides, people with determination vehicles are equipped with technology to navigate roads, drive safely, and other accessibility features. Let's go through some important features and cars to look for in vehicles driven by people of determination.
IMPORTANT FEATURES TO LOOK FOR IN A PEOPLE OF DETERMINATION VEHICLE
People of determination can drive cars within the traffic laws of the UAE. Driving courses for people of determination in Dubai ensure that they can drive their cars. Moreover, there are certain SUVs, minivans, and other car body types that have accessibility features.
However, there are some must-have features that people of determination (PoD) must look out for before buying a car. The following features make driving a people of determination vehicle easier and more accessible for them.
KEYLESS ENTRY AND IGNITION SWITCH
The major benefit of a keyless ignition system and entry is its convenience. It is impactful for people of determination (PoD) drivers with arthritis.
CAR CONTROLS
Another feature that one should consider in a people of determination vehicle is that car controls are easily accessible. For instance, voice controls can help access the infotainment features and GPS navigation system of the drivers conveniently. Moreover, new car models come with a touchscreen infotainment system and users can navigate or select options easily.
GEAR SHIFTER
If the car has an automatic transmission, it is important to consider that the gears can be shifted without the use of a button. That said, it can be hard for people of determination with arthritis to shift gears properly.
In the case of a manual transmission, there must be a clutch lever alongside the steering wheel. Moreover, the lever should work smoothly with minimal effort.
LOCKS AND WINDOWS
Among the features in people of determination vehicles, automatic locks and windows can be helpful. For instance, locking or unlocking doors and closing or opening windows can be a challenge. Therefore, automatic doors and windows that can be used comfortably are important.
Besides, features such as opening the car boot by swiping the foot can be a convenient option for people with bad hand arthritis.
ACCELERATION AND BRAKE PEDALS
Hand levers for acceleration and brake pedals are important features in a people of determination vehicle. Besides, making modifications such as using a brake booster will require minimal force.
CRUISE CONTROL AND OTHER SAFETY FEATURES
Alongside adjusted pedals, it is important to check that cruise control and other safety features are easily operable in people of determination vehicles.
SEATS
Some vehicles come with bench seats that are more spacious than the regular separated seats. Moreover, ensure that the vehicle has automatically adjustable seats for drivers and passengers to adjust properly.
WHEELCHAIR ACCESSIBILITY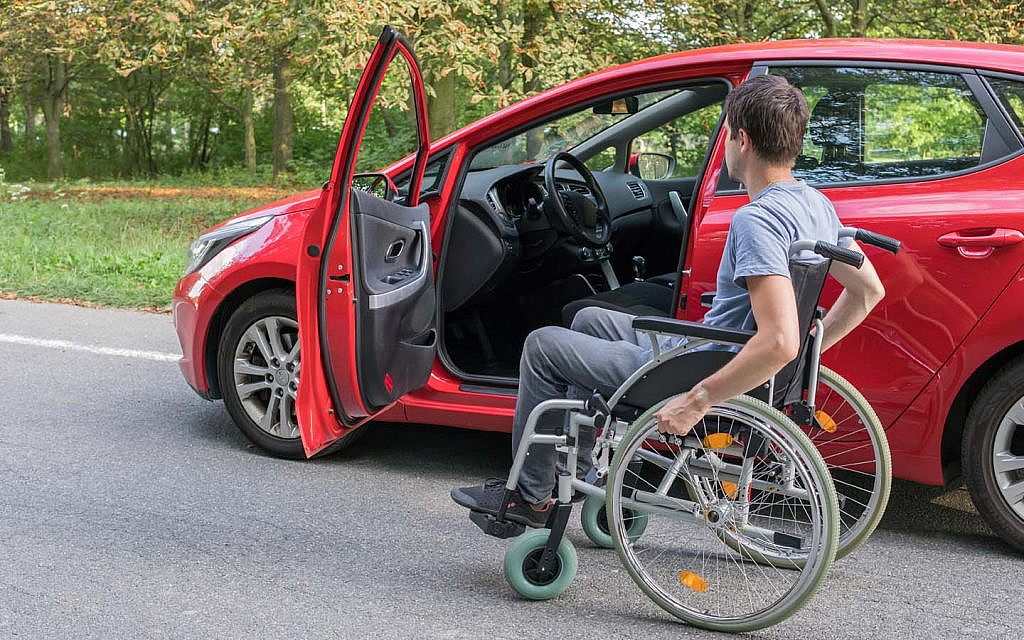 It is one of the modifications that one needs to make in people of determination vehicles. Besides, some minivans and SUVs come with a ramp to make the vehicle wheelchair accessible.When making modifications to make a wheelchair-accessible vehicle, it is essential to consider whether high seats are convenient or low seats.
POPULAR VEHICLES FOR PEOPLE OF DETERMINATION PASSENGER
Some features in people of determination vehicles outweigh those of conventional vehicles. While buying a new or used car in the UAE for people of determination, one needs to consider all the above-mentioned features and modifications. Besides, the following vehicles have comfortable and roomy interiors with better leg and headroom:
Chrysler 300: Chrysler is known for its roomy interiors which makes entering and exiting easier. Besides, making Chrysler 300 accessible for people of determination using adaptive driver and passenger equipment is easier.
Lexus RX: It is a luxury crossover that offers a roomy and comfortable interior making car trips easy with accessible features for drivers and passengers.
Subaru Forester: It has a high ground clearance that makes getting in and out easy. Also, it can be modified accordingly as a car for people of determination.
Jeep Grand Cherokee: Similar to the Forester, the Grand Cherokee also has the high ground clearance and comes with the ability to be modified according to the needs of people of determination.
Chevrolet Silverado: It is one of the people of determination vehicles with wheelchair accessibility. Silverado has a wheelchair lift and hinged doors making it easy to enter and exit the car.
Honda Odyssey: The Odyssey has low ground clearance, and doors that can slide for extra ease of entry and exit. Moreover, ramps can be used which will make wheelchair entry even easier.
Other popular people of determination vehicles that have accessibility features include Dodge Caravan, Ford Explorer, and Chrysler Pacifica. Therefore, when buying a car for people of determination, it is important to check all the features to make driving easy and convenient.
Alongside driving facilities for people of determination in the UAE, certain public transport facilities for people of determination in Dubai and other Emirates to ease the travelling for people.
Stay connected with the UAE's leading auto blog to learn more about accessible features and specifications.
whatsapp