Modern Car Safety Features
Over the years, vehicles have evolved tremendously in terms of design, features and functionalities. As the vehicle performance has improved with advancement in technology, so have the car safety features.
Vehicle safety is more than just seatbelts, airbags, and backup cameras. From anti-lock brakes to adaptive headlights and airbags, modern-day vehicles are equipped with smart and intuitive car safety features. Many of these features ensure the safety of passengers as well as the vehicle.
Safety Features in Modern Cars
Today, we bring you a list of modern safety features you can find in cars these days.
Autonomous Emergency Braking System (AEB)
Autonomous Emergency Braking System is a ground-breaking car safety features in modern vehicles that scan the road ahead as you drive. Driving a vehicle with an AEB system enables the vehicle to automatically apply brakes if there is a probability of collision with the obstacle.
Moreover, the Pedestrian Auto Emergency Braking system is part of the AEB system. This feature allows the driver to keep a track of the pedestrians' movement with respect to the car's path. An advanced version of the system can also detect cyclists on the road, allowing you to be more cautious of your movement.
Adaptive Cruise Control
The Adaptive Cruise Control System is another extremely helpful safety feature. This is an advanced driver assist feature that automatically adjusts the speed of the running vehicle to ensure a safe distance is maintained from other vehicles on the road, thereby reducing risks of a crash by a long margin.
Forward Collision Warning
The Forward Collision Warning system monitors the speed of cars in front of your vehicle. This warning system alerts the driver of a collision threat so that they can act proactively. It predicts the factors that may result in a collision, like overspeeding or less distance between cars ahead. Many accidents occur due to sudden brakes of the car ahead of you.
Adaptive Headlights
Many drivers find it difficult to correctly view in the dark or when there's considerably low light. Vehicles with adaptive headlights adjust the headlights as per the curve of the road or steering angle. This safety feature is particularly helpful when driving around hills or on bent routes.
Blind Spot Warning
Driving a car is not everyone's cup of tea, sometimes, even the most experienced drivers hit other vehicles due to the "blind spots" making it difficult for them to detect the car on the sides or rear. The Blind Spot Warning (BSW) system was designed to overcome such challenges and assist drivers in watching out for objects or vehicles that come in the blind spot.
BSW system signals the drivers every time it is unsafe to merge or change lanes if another vehicle is in the blind spot and may result in a collision. The Blind Spot Warning system falls among the must have car features that many people look for when buying cars.
Lane Departure Warning
Particularly of use in long road trips, Lane Departure Warning system warns you when you attempt to drift out of a lane without any indication. If you're worried about dozing off on the drive from Dubai to Abu Dhabi, you might find Lane Departure Warning safety feature extremely helpful.
The system uses the camera, which is on the windshield close to the rear-view mirror. With this camera, it keeps a track of the lane markings on the road ahead.The Lane Departure Warning will send an alert to the driver, when they begin to steer to another lane without an indicator,
Electronic Stability Control
This advanced car safety feature is designed to automatically detect the loss of traction to the tyres. Electronic Stability Control (ESC), as the name suggests, prevents skidding by applying brakes or even cutting the engine power to help the car regain control. An ESC system is a staple to every modern-day car manufactured today.
Tyre Pressure Monitors
Tyre Pressure Monitor is another safety feature found in cars. It detects low-pressure levels from the designated point and immediately alerts the driver. Designed to prevent drivers from breaking down in the middle of the road and waiting hours to get assistance or changing tyres.
Traction Control System (TCS)
Loss of traction is one of the common reasons for collisions. The Traction Control System (TCS) is activated when it detects that the engine torque and throttle input are not compatible with the current driving surface. By doing so, this feature prevents wheels' loss of traction on the road.
Reverse Camera
Reverse or rear-facing cameras have become standard automobile technology. Found in almost all vehicles including SUVs, high-end 4WDs, and others, Reverse Camera technology is extremely convenient when you want to back out of the driveway or in parking and avoid collisions. 
Automatic Parking Technology
The Automatic Parking Technology is truly one-of-its-kind. What was previously an ordeal for all drivers is not quite easy, thanks to this new technology. This car safety feature enables you to park your car in a smooth pull-up, without spending unnecessary time working yourself over reverse or parallel parking hassle.
This technology employs a series of sensors that automatically measures the dimensions of a parking space when you reach one. The Automatic Parking Technology can be activated by the press of a button, allowing your car to steer itself effortlessly into the empty space in one move, requiring you to only control the accelerator or the brake.
Smart Car Gadget Technology
It's always useful to keep a track of small things when driving, such as the fuel or the cost per litre. A smart car gadget is a device that can be plugged into your car's standard diagnostic port. This gadget then transfers information to the device on your dashboard or smartphone connected to your car.
This gadget will keep you updated with the usage of fuel per trip while driving, the air-con costs in petrol, and other real-time statistics. The gadget can aid in enhancing your car's performance and your own driving habits.
Anti-Lock Brakes
Anti-lock brakes are one of the must-have safety features in a car, which are now offered as a standard technology in most new models. The anti-lock braking system prevents the wheels from locking when the brake is applied. This allows the driver to maintain better control over the car, even in a tricky situation. It is also one of the safety features credited for playing a huge role in accident prevention.
Airbags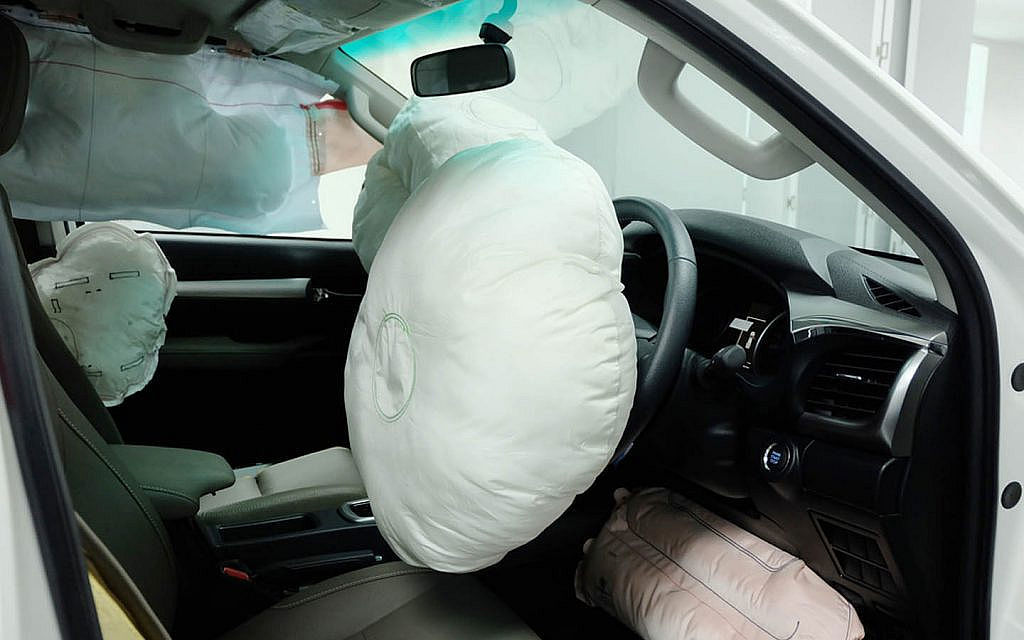 Due to their benefits, airbags were mandated in the year 1998 for all vehicles. While airbag itself isn't a modern technology, modern cars are making better usage of airbags with the help of better sensors and placement. Immensely helpful in case of collision, airbags cushion the occupants to reduce the impact of force by a huge degree. Modern vehicles now feature thorax airbags for head protection, in addition to airbags for knees and the front.
With the advancement in automobile technology, engineers have continued to invent new car safety features that make modern vehicles safer than ever before. If you are looking for cars with the best safety features, you may opt to buy a second-hand car with safety features in the UAE. dubizzle lists many used models of the safest cars in the UAE. Here are a few of them:
However, road safety depends as much on the driver as it does on the vehicle. Therefore, make sure you follow the road safety tips and traffic rules to avoid any inconvenience.
For information on traffic laws and regulations, stay tuned to the UAE's leading auto blog.
whatsapp