What are the Main Reasons for Engine Oil Leaks?
A car engine consists of many mechanical and moving components. These moving components come in contact with each other. Speaking of that, lubrication helps avoid wear and tear of engine parts. However, a car oil flow may be disturbed due to damaged components, such as gaskets or seals.
These damaged parts result in oil leakage. Alongside this, several other factors lead to oil leaks. Today, we will elaborate on the causes of engine oil leaks, but before that, let's learn the signs that indicate leakage.
Symptoms of Engine Oil Leaking From the Car
You can find several signs of oil leaks in vehicles. These signs help determine the problem at the earliest. Moreover, determining these engine oil leak symptoms prevent minor problems from turning into major ones.
The following are the common signs of oil leaks in cars that may require a timely fix.
Possible Spots For Oil Leaks
Oil leaks in cars can form a greasy and dark liquid around some spots in the engine assembly. Cracked or broken engine parts can result in oil leaks. Here are the components to look for when your car shows signs of oil leakage, such as overheating, uneven engine performance or power loss.
Oil Filter
Oil Pump Gasket
Valve Covers
Oil Pan Gaskets
Timing Chain Cover
Crankshaft Seals
Crankcase
Positive Crankcase Ventilation (PCV)
Causes of Engine Oil Leaks
A car engine has many moving parts. These parts can wear and tear if lubricated improperly. That said, oil leaks can lead to several malfunctions. Therefore, learning its root causes can help diagnose and fix engine oil leaks.
Here are all the causes of oil leakage in vehicles and how they affect your car's performance.
Broken Gaskets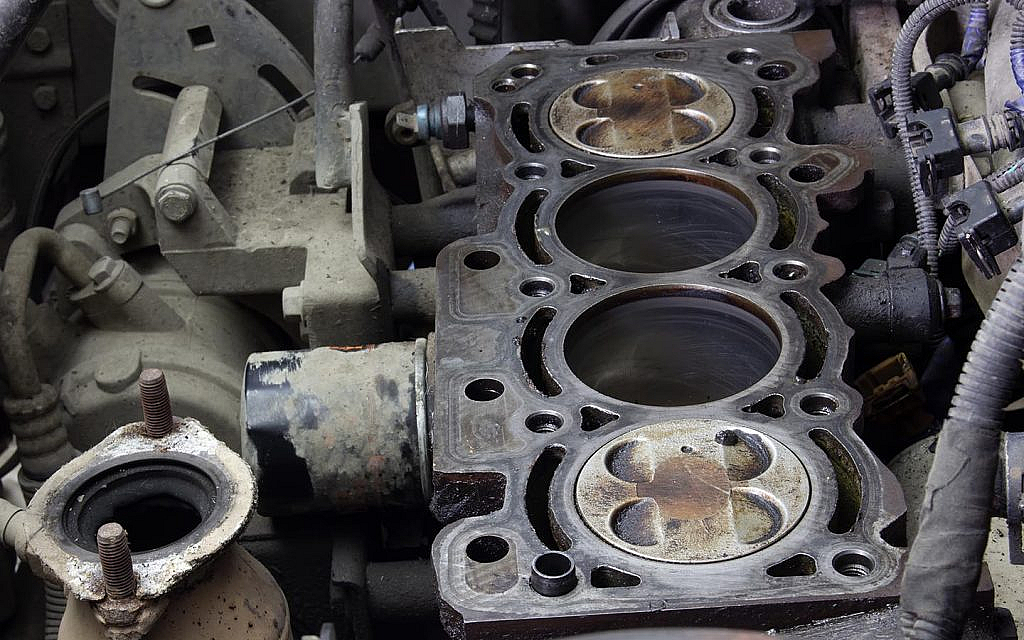 Gaskets are an essential component of an engine. They help to seal the gaps between engine components and prevent oil leaks. When gaskets damage, they can no longer provide a tight seal, leading to oil leaks. Various factors, including excessive heat or chemical exposure over time, can cause oil leakage.
There are two types of gaskets prone to damage. One is a head gasket type that seals the cylinder head to the engine block. A broken head gasket can be one of the reasons for coolant and engine oil mixture.
The valve cover gasket is another type that seals the valve cover to the engine head. When the valve cover gasket fails, it can cause engine oil leaks and lead to a messy and potentially hazardous situation.
To address gasket-related oil leaks, replace the blown head gasket or valve cover gasket promptly. It is also essential to address any underlying issues that may have caused the gasket to fail in the first place, such as overheating or excessive pressure. Addressing these issues will prolong engine life and improve its performance in the longer run.
Cracked Seals
The seals are made of rubber that can become brittle and crack over time. Common seals, such as camshaft seals, crankshaft seals, and oil pump seals, can break. When seals crack, they don't provide a tight seal leading to engine oil leaks.
Clogged Oil Filter
The oil filter helps remove contaminants and debris from the engine oil. This type of car filter can become clogged with dirt, debris, and other contaminants restricting the flow of oil and causing pressure to build up in the engine. The pressure can cause oil leaks. When the oil leaks due to the clogged oil filter, it is one of the reasons behind low engine oil pressure.
Clogged oil filters can also damage the engine. It can restrict oil flow, increasing engine wear and decreasing performance. Common signs of a clogged oil filter include engine performance drop and unusual engine ticking noises due to low levels of oils.
Loose Oil Drain Plug
The oil drain plug is a small but significant component in any engine. It helps to drain used oil from the engine during oil changes. Over time, the drain plug can become loose due to vibration. Moreover, overtightening can damage the threads and lead to a loose oil drain plug.
Excessive Oil
The job of car engine oil is to lubricate the moving parts and protect them from wear and tear. However, when the engine oil level is too high, it can cause oil to leak out of the engine through various points, such as the oil seals or gaskets. Other signs of excessive engine oil include blue or white smoke from the exhaust, engine misfires, and engine power loss.
Oil Changing Habits
There are several benefits of changing the oil regularly. It protects the engine components from wear and tear and prevents overheating. That said, it will improve engine performance and help avoid cracking or breaking gaskets or seals.
However, if you don't change the oil regularly or use the wrong engine oil, it may deteriorate the vehicle's efficiency and may become a reason for an engine oil leak.
How to Fix Engine Oil Leaks
Engine oil leak repairs depend on the cause or source of leakage. You can fix the gaskets or seals by replacing them with new ones. Plus, clogged oil filters require replacement as they may cause significant damage to the car's engine.
Changing the drain plugs, using the right type and amount of oil and not delaying engine oil change can prevent leaking. Therefore, you must identify this car issue and fix it soon to prevent damage to the engine.
Can I Drive My Car With an Oil Leak?
When the oil leaks, you can drive, but manufacturers don't recommend it. Low engine oil can lead to overheating, engine damage or wear and tear. Driving with an oil leak in the car can lead to hazards since a vehicle may catch fire, damage the environment by releasing different oxides, or it may lead to significant engine damage.
That wraps the complete guide to engine oil leaks, their possible causes, signs and fixes. When you buy a used car in the UAE, ensure that you check the engine components properly to avoid paying hefty repair costs. Moreover, you can change the car oil without changing the filter every time.
Ensure to choose the right type of engine oil to avoid any issues later. It will help enhance the vehicle's performance and engine lifespan.
Stay tuned to dubizzle's autos blog to learn more about car problems, repairs and fixes.
whatsapp