Dubai's safe and widespread public transport network is one of the many reasons it stands out as a city worth visiting. Apart from the more common taxis and buses, Dubai Metro and Dubai Tram ensure a seamless travelling experience to visitors and residents alike.
This detailed guide on the Dubai Tram covers everything you need to know about the tram network and service in the Emirate.
Dubai Tram – An Overview
Termed 'one of the safest modes of transport in the world' by the Road and Transport Authority (RTA), the Dubai Tram runs along the Al Sufouh Road and links Dubai Metro and Palm Monorail. It was launched in 2014 and has since served the city government's goal of alleviating traffic congestion, especially in tourist spots. Stretching over 14.5 km, it passes through Palm Jumeirah, Dubai Knowledge Park and Dubai Media City; it also covers Jumeirah Beach Residence and Dubai Marina.
The tram is perhaps the first transport network outside Europe to be powered with a wireless underground electric system. It also has automated features such as platform screen doors, audible beeps and flashing light signals for opening and closing of the tram gates.
The tram carry almost 400 passengers with cabins dedicated especially for women and children. It also offers gold class cabins with greater space and more comfort.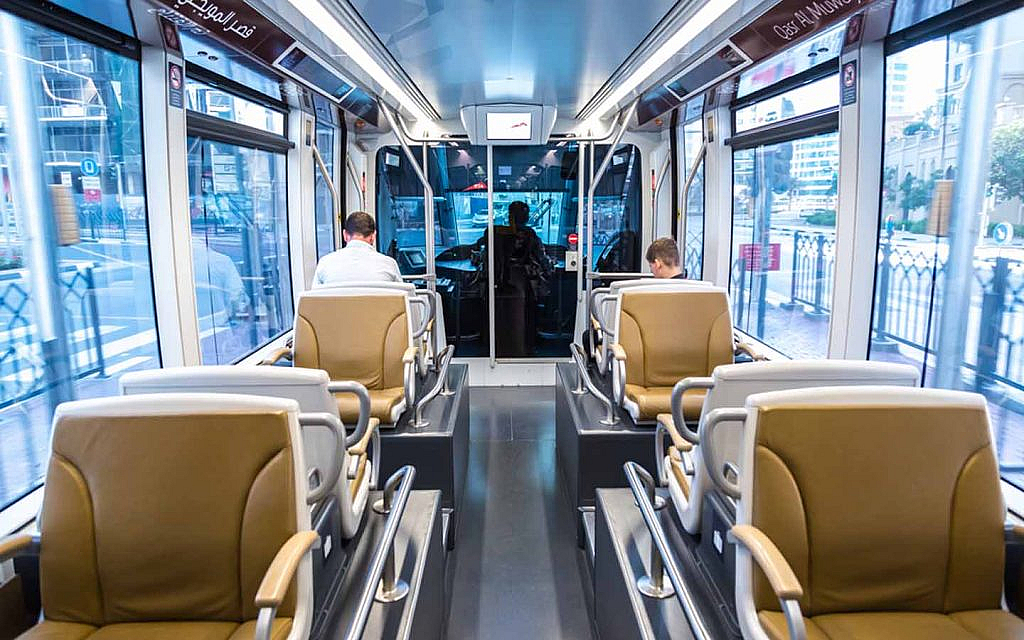 Dubai Tram Stations
A convenient and safe way to travel, the Dubai tramway has a route with 11 stations and touches main landmarks of the emirate including the exotic Jumeirah Beach Residence (JBR) and Dubai Marina. Given below is the list of Dubai Tram stations:
Al Sufouh Tram Station
Knowledge Village Tram Station
Palm Jumeirah Tram Station
Media City Tram Station
Mina Seyahi Tram Station
Marina Towers Tram Station
Dubai Marina Tram Station
Dubai Marina Mall
JLT Tram Station
JBR 1 Tram Station
JBR 2 Tram Station
Have a look at these villas and houses for sale in Dubai Marina if you want to live near these stations to avail the Dubai Tram facility. Apartments on rent in Dubai Marina are also available.
Dubai Tram Charges
Dubai tram, an essential part of the Dubai Public Transport, was established to make travelling easier for the citizens of the emirate. Therefore, the transport charges are affordable for the general public. The fare payment methods and requirements are covered in detail below: 
Nol Card
The transport system in Dubai is modern and mostly electronic. This includes its payment method as well, which includes a nol card. Nol in Arabic means fare and a nol ticket in the UAE is an electronic payment card you can buy at any ticket machine or the ticket office at any transport station.
Nol cards have three different categories; Silver, Gold and Blue with different features. Silver Card is the regular type while Blue Card offers more online features and security. It is more personalized than the Silver Card. Meanwhile, the Gold Card allows the holder access to Gold Class cabins of any transport system.
The maximum top-up limit for nol cards is AED 1000 in case of anonymous cards and AED 5000 after registration.
These cards are simple to use. Just tap your card at the validator on the tram or station and the fare will be deducted electronically. You can also purchase the nol card ticket for one-time use.
Dubai Tram Tickets and Fares
You can use your Nol Card to pay the following amount of fare for your journey on the Dubai Tram:
Silver Card: AED 3 within 1 zone | AED 5 within in 2 adjacent zones | AED 7.5 for more than 2 zones
Gold Card: AED 6 within 1 zone | AED 10 within in 2 adjacent zones | AED 15 for more than 2 zones
Blue Card: AED 3 within 1 zone | AED 5 within in 2 adjacent zones | AED 7.5 for more than 2 zones
Red Ticket: AED 4 within 1 zone | AED 6 within in 2 adjacent zones | AED 8.5 for more than 2 zones
For students, children, people of determination, social workers and senior citizens travelling is free when using these nol cards.
Dubai Tram Timings
The Dubai tram timings for Saturday to Thursday are between 6:30 am and 1:30 am when the last tram takes off for departure. However, on Friday, the tram hours are different with the opening time being 9:00 am and the closing hour is 1:30 am.
Expect a tram after every 10 minutes during the peak hours. Otherwise, a tram arrives at a station after every 12 minutes. You can enjoy the entire Dubai Tram journey in about 40 minutes.
Dubai Tram Fines
Like any other transport network, there are a few rules and a code of conduct you will have to adhere to when travelling via Dubai Tram. Breaking these rules may incur public transport fines in Dubai. Here is a breakdown of all the fines that result due to violation of these rules on the tram: 
Fare and Ticket Violations
Violation

Fine

Entering into, exiting from sections where the fare is applied, or using Dubai Tram without payment

Fine

AED 200

Selling Unified Cards without permission from the Authority

Fine

AED 200

Inability to present the Unified Card when requested

Fine

AED 200

Using someone else's card

Fine

AED 200

Using an expired card

Fine

AED 200

Using an invalid card

Fine

AED 200

Using Counterfeit card

Fine

AED 500
Compliance Violations
Violation

Fine

Entering into restricted areas on Dubai Tram or Transport Facilities and Services despite the posted warning boards and signs

Fine

AED 100

Putting feet on seats

Fine

AED 100

Sitting or standing in non-passenger areas inside the Dubai Tram or stations

Fine

AED 100

Selling or promoting goods and commodities inside the Dubai Tram

Fine

AED 200

Not complying with the instructions of the inspector/ authorised personnel or impeding the performance of their duties

Fine

AED 200

Using Dubai Tram, Facilities and Services contrary to the instructions of the Authority as posted on signboards

Fine

AED 200
Behaviour Violations
Violation

Fine

Causing an inconvenience or disturbance in any way to others using the Dubai Tram

Fine

AED 100

Accessing or sitting in areas designated for specific categories

Fine

AED 100

Eating/Drinking in areas where food is prohibited

Fine

AED 100

Sleeping in any place on the tram where it is not allowed

Fine

AED 300

Vandalising, damaging or destroying seats and other equipment on Dubai Tram

Fine

AED 2000

Parking vehicles in an area entitled for metro users for a period beyond the permitted period

Fine

AED 100/day and up to AED 1000
Health Violations
Violation

Fine

Carrying pets on Dubai Tram. The only exception is guide dogs for blind persons

Fine

AED 100

Smoking on Dubai Tram

Fine

AED 200

Littering, spitting or performing any act compromising the cleanness of the Dubai Tram

Fine

AED 200
Safety Violations
Violation

Fine

Misusing escalators and lifts

Fine

AED 100

Jumping or climbing to board the Dubai Tram

Fine

AED 100

Bringing on or using equipment or material that may result in inconvenience for the passengers on Dubai Tram or endanger their safety

Fine

AED 100

Opening the tram gates or attempting to access or leave the tram while it is moving between stops and stations

Fine

AED 100

Causing any obstruction or distraction to the drivers of Dubai Tram while they are driving

Fine

AED 200

Bringing Alcoholic drinks inside Dubai Tram

Fine

AED 500

Carrying hazardous items, such as weapons, inflammable materials and sharp tool on Dubai Tram

Fine

AED 1000
Dubai Tram Luggage
Each passenger on Dubai Tram is allowed to carry only two suitcases while travelling. The luggage is further limited to one large suitcase with dimensions not exceeding 81cm x 58cm x 30cm and a small case with dimension not more than 55cm x 38cm x 20cm.
Make sure you stow the luggage in the area dedicated to it and can be found in each cabin.
Interchange to Dubai Metro from Dubai Tram Stations
A passenger can interchange to Palm Monorail as well as Dubai Metro from certain Dubai Tram stations. You can get off the Dubai Tram at the Marina station and from there, walk to DAMAC Properties Metro Station. The Red Line Metro serves the latter.
Another way is to take the tram at the Jumeirah Lake Towers station and get a metro at the DMCC Metro Station.
If you want to take the Palm Monorail, get off the tram at the Palm Monorail Station. Walk the short distance between the Tram and Monorail station to reach your desired destination.
Other Facilities on Dubai Tram
When it comes to comfortable travelling, Dubai Tram exceeds expectations. It provides various facilities to travellers. Some of the major highlights of this transport service are:
Mobile Coverage: Passengers have complete mobile coverage throughout the tram network
Free Wi-Fi: Free Wi-Fi on the go via the Metro network
Emergency Call Box: Tram and station has the facility emergency call box available
Dedicated Metro Police: Special police force on the tram to ensure rules are being followed
Radio Link: The tram has an integrated radio system with the emergency services
Other features offered by the Dubai Tram to ensure the comfort of the passengers include Lift access, tactile guidance path for the visually impaired, informative displays in case of delays and other notices, wheelchair access for the disabled and platform alerts.
FAQS
How do I get to the Marina Mall by tram?
You can get to the Marina Mall by boarding the tram at station 4 aka Dubai Marina Mall station. It is around a 10-minute walk to the mall from there. However, you can use a taxi if you want to get to the mall more quickly.
How do I get to the Palm Jumeirah by Dubai tram?
Take the tram from the Dubai Marina Tram Station to get to the Palm Jumeirah Tram Station. You can also travel on the metro to Marina aka Damac station (Marina) and take the tram to Palm Jumeirah.
If you are interested in living in this area, check out these Palm Jumeirah homes and villas for sale. You may also rent an apartment in Palm Jumeirah.
How do I check my nol balance for Dubai Tram?
You can check your nol balance by visiting the official RTA website. Select the option: "Check Nol Balance" and then enter your Nol tag ID. This will show you the balance left in your account.
Can I recharge my nol card online for travelling on Dubai Tram?
The Roads & Transport Authority (RTA) offers an online top-up service for its nol card. You can recharge it online via nol service portal.
This is all there is to know about Dubai Tram. Consider yourself lucky if the tram stops near your residence. You can enjoy one of the most popular emirates of the UAE without having to worry much about the peak traffic hours, all thanks to the Dubai Tram service.
To make travelling even easier on the Dubai roads and avail authentic traffic information, download some of the best public transport RTA apps. You can check out the S'hail app to plan your journeys in Dubai.
Stay tuned to the UAE's top blog for more on public transport and other RTA services.
whatsapp