Everything You Need to Know about DTC Dubai
Founded in 1995, Dubai Taxi Corporation (DTC) is a subsidiary of the Road and Transport Authority (RTA). DTC aims to serve its customers by facilitating them with quick and convenient transport service at affordable rates. The taxi corporation has stepped up with trained drivers and quality taxis. Over the years, they have introduced various types of taxi services catering to different users with varying needs.
DTC Dubai has achieved customers' satisfactions through following standard practices by providing safe and sustainable taxi transports for all.
Here's a complete guide on smart DTC app, taxi services, contact and address information of Dubai Taxi Corporation:
DUBAI TAXI CORPORATION APP
DTC app is one of the useful public transport apps in Dubai facilitating residents to book exclusive, safe and comfortable taxis and limousines. The app allows users with multiple taxi and payment options, for instance, direct payment or through the credit card. The Dubai Taxi Corporation app can be downloaded on Android or iOS.
FEATURES OF DTC SMART APP
Following are the features provided to the smart app users:
Book a range of taxis, limousines, other transportation, for instance school bus or delivery services.
Fare calculation for each mode and type of transport.
Instant booking or rescheduling of ride.
Discount packages for the customers.
Easy to use interface.
24/7 customer support and taxi services.
Loyalty points
Cash or credit card options for easy and safe payment.
DTC TAXI SERVICE
The Dubai Taxi Corporation offers the following taxis and limousine services:
LIMOUSINE
DTC limousine is an exclusive chauffeur driven service. It is specially designed for the tourists, business professionals, hotels, corporate and government officials. This service includes Tesla, Infiniti and Lexus vehicles. Moreover, the service benefits the passengers with the following facilities:
Arrives in less than 30 minutes
Available for full 24 hours in a day
Complimentary services from the Dubai airport
Affordable rates
Comfortable and well maintained vehicles with professional and trained drivers
Assistance with luggage
Chauffeurs accompany users to the VIP waiting areas
Furthermore, Limousine service also includes Ameera Limousine providing the same benefits to the passengers. However, these are distinguished from the Limousine service because it is designed for the women specially. The trained women drive the Ameera Limousine and meet the needs and requirements of the female users.
FARES
Metre starts at AED 25. AED 3.25 per kilometre from the airport.
Normal ride from within the city starts at AED 7.5 and AED 3.50 per kilometre is calculated.
AIRPORT TAXI
These vehicles are available at the Dubai airport 1,2 and 3. It provides the following benefits to the passengers:
24/7 availability at the Dubai airport
Residents or tourists can book taxi from the airport instantly
Spacious vehicles assisting luggage space
FARES
The journey starts at AED 25 and 1.96 AED is charged per kilometre.
TAXI
This is a general cab service available for every resident and tourist in the Emirate of Dubai. They are distinguished Dubai taxis with a red rooftop and occasional advertisements on the sides and back. No exclusive service is provided in this general taxi. However, the following facilities can be availed by the passengers in Taxi by the Dubai Taxi Corporation:
Arrival time of less than 45 minutes
Convenient and well-maintained vehicles
Affordable fare rates
Availability of taxis throughout the day
FARES
The starting fare of the ride is AED 5 from 6 am to 10 pm and AED 5.5 from 10 pm to 6 am. AED 10 to 12 is charged for the booking and distribution.
IN-SAFE HANDS TAXI
The In-Safe Hands Taxi in Dubai is distinguished by its availability for booking on daily, weekly or monthly basis. This category is specially created for the passengers who need privacy and safety especially women and children. The In Safe hands taxi service facilitates the users with the following benefits:
Professional male drivers
Female drivers for women and children under age of 12.
24/7 availability
FARES
AED 200 is charged at the start of service which is refundable when the ride ends.
Operating charges of AED 25 following AED 1.86 is charged per kilometre. AED 0.50 waiting per minute is also charged.
The users travelling from Dubai to Sharjah need to pay an additional AED 20, which is the fee to enter Sharjah.
Customers have to pay the Dubai Salik charges separately.
TAXI RENTALS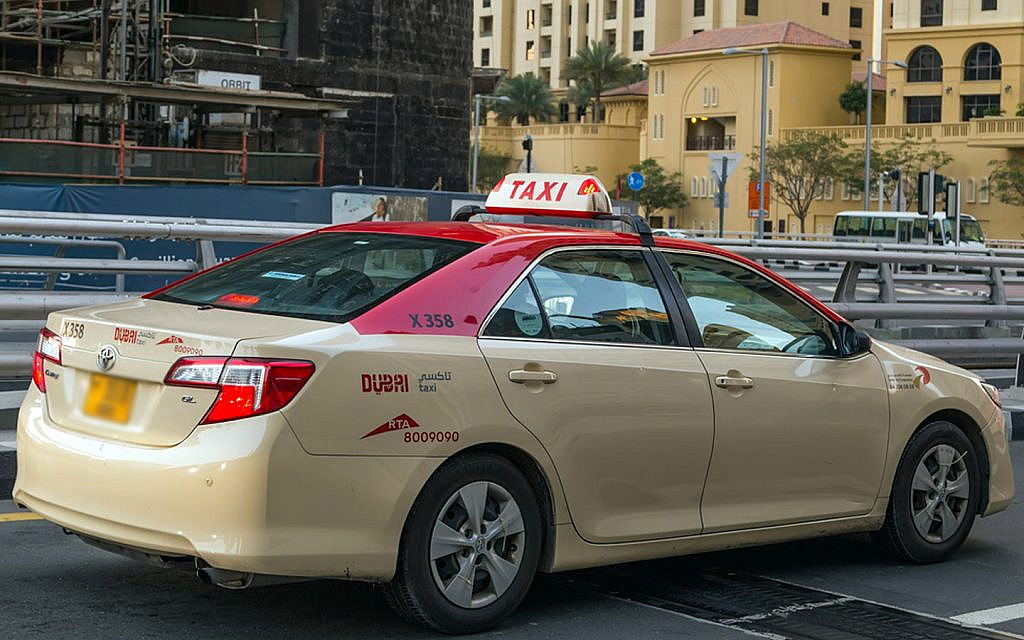 Dubai Taxi Corporation facilitates the residents and tourists to rent taxis and have a trip around Dubai. These taxis have the same facilities as the general taxis. This service needs to be booked 24 hours prior to the trip.
FARES
6 hours fare is AED 500 and 12 hours cost AED 1800.
PEOPLE OF DETERMINATION TAXI
This taxi service is specially designed for the people of determination(PoD). People of Determination taxi in Dubai are equipped with the following facilities for the people of determination:
Special lifts for the wheelchair
Wheelchair
Artificial respiratory system
Seats for the people accompanying people of determination
The people of determination taxis have a distinguished red roof top and blue logo icon on the back window so that people can recognise it.
FARES
Operating charges of AED 25 from the airport
Regular base charge of AED 5 from 6 am to 10 pm and AED 5.5 from 10 pm to 6 am
Per kilometre charges are AED 1.96
LADIES AND FAMILIES TAXI
This is one of the transportation service for women in the UAE distinguished by its pink rooftop. Ladies and families can avail this taxi service by reserving it from the dispatch centre or from the airport. These taxis are driven by professional and well trained female drivers.
FARES
Booking charges of AED 25 from the airport
Base charge is AED 5 from 6 am to 10 pm and AED 5.5 from 10 pm to 6 am
The base charges are followed by AED 1.96 per kilometre charges
DTC MY DRIVER
It is one of the new services by Dubai Taxi Corporation. This service allows the car owners to book the professional drivers for themselves or corporate clients. DTC provides competent drivers through an agreement for a number of hours or days. Moreover, the car owner needs to provide sufficient fuel and an insured car. This service can be availed by users 24/7.
FARES
Daily charges of AED 250 for 8 hours.
Weekly charges of AED 1000 (5 working days).
Monthly charges of AED 3500 (22 working days).
SCHOOL BUS TRANSPORT
The school bus service facilitates the needs of school and nursery students. The buses are of the highest quality and environmentally friendly. The school bus fees varies according to the connected school and home areas. Here are the benefits of school bus service by Dubai Taxi Corporation:
Affordable prices and convenient contracts
Constant monitoring of buses by Operating Control Centre (OCC)
SMS and Email service to inform parents about pick and drop of children
GPS tracking
Complies with the Dubai Municipality online address finder "Makani"
Euro 5 emission system
Student ID scan system
WiFi services
Suggestions and Complaints: school.bus@dtc.gov.ae
Parent Portal: schoolbus.dubaitaxi.ae/Parentportal
COMMERCIAL BUSES
Dubai Taxi Corporation provides commercial buses to the companies to ease transportation of the employees of that organisation. Moreover, DTC offers effective, affordable and effective contracts. The facilities for the commercial bus service is the same as the school bus transport by DTC.
BOOKING OF SERVICES
Users can book services by Dubai Taxi Corporation in the following ways:
DTC Smart App
Customer Care Centre
CONTACT INFORMATION
Address: First Floor, Main Building, Amman Street Al – Muhaisnah Area, Dubai
Hours: 8 AM – 2 PM
Email: customers.happiness@dtc.gov.ae
Contact Number: +971 800 88088
Dubai Taxi Corporation is known for providing exclusive taxi services to the customers with qualified drivers and well-maintained vehicles. You can book these taxi and limousine services conveniently from the DTC app or directly from the airport too. DTC has also added new vehicles in Dubai taxi fleets for even comfortable ride for the passengers. If you are a Dubai resident and wish to travel in your own car, here are some used cars for sale in Dubai.
Stay connected to the UAE's top auto blog and find more information on public transports in different Emirates.
whatsapp