Here is Why Your Car is Still Dirty after a Wash
Car cleaning should be a part of your regular car maintenance regime. However, if your car doesn't seem clean even after a wash, you need to take a few extra measures to restore its gleam. Let us see the car wash mistakes that make your vehicle look dirty and how to avoid them.
Car Wash Mistakes to Avoid
The following are the most popular car wash mistakes that people make. As a result, your car is still dirty after a wash, from the inside and outside both.
Using a Pressure Water and Plain Water Only
A major reason why your car is still dirty after a wash is using only pressure water for the purpose. Washing your car with pressure washer and plain water is a big car wash mistake. You can't expect a neat and tidy car using just pressure water. This is because water doesn't have any cleaning agents that will remove the dirt from your car's exterior.
Moreover, without using a car wash shampoo there will be no lubrication, as a result, you may cause scratches and swirl marks on your car's paint when washing it with a high-pressure washer.
Therefore, after the initial rinse with pressure water, always use a car wash shampoo to get a neat and tidy car. Here are some useful car cleaning tips.
Don't Let Chemicals and Water Dry on Your Car's Paint
Another common car wash mistake is to wash it under direct sunlight. If you do that, water, car wash shampoo, and other chemicals will usually dry on your car's paint, making it dirty all over. This can also damage the car's paint.
Therefore, always park your car in a garage or shaded area when washing it. Another reason your car appears dirty after a wash is when you don't properly dry your car after a wash. As a result, the water sitting on the car's body will dry out leaving water spots that get very hard to remove later on.
Using Low-Quality Car Washes is a Big No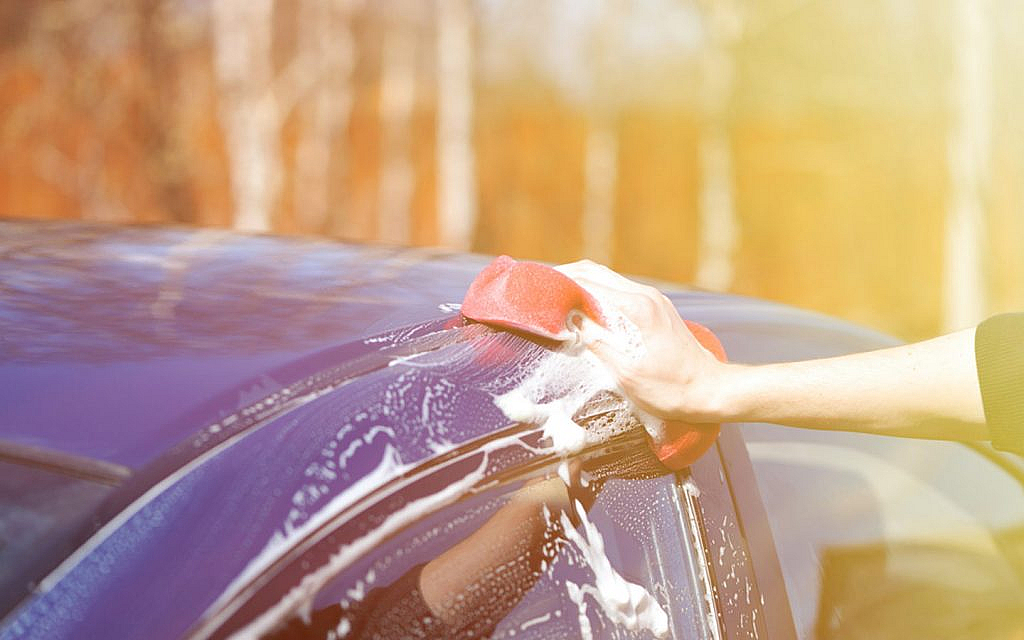 Buying the cheapest car wash shampoo is another car wash mistake. It's not a smart decision, such products don't usually have enough cleaning agents and lubrication. As a result, it becomes very difficult for dirt to get off and your car does not look clean even after wash.
Now that doesn't mean that expensive products will always make your car clean and shiny. The best thing to do is read reviews of car washing products and buy the one that has satisfied people.
Improper Drying Of The Car
Another popular reason your car is still dirty after a wash is improper drying. We have elaborated on what happens when chemicals and water dry on your car's surface making it look dirty all over again. Here is how you can dry your car effortlessly after washing it:
You can use a drying microfiber towel
You can use an air blower
Using a microfiber towel to dry your car is self-explanatory. Just wipe off the surface of your car after it has been washed. Then if you want to use an air blower, use a clean air blower and keep it for this purpose only. Don't use the one kept in your garden. Keep one separately for drying your car after a wash.
Not Using a Microfiber Wash Mitt
Not using a microfiber wash mitt isn't sensible. These mitts fall under the must-have car cleaning products. They can trap all the dirt on your car successfully and even prevent the dirt from scratching your car's paint. Just make sure you don't use dirty wash mitts to dry the car after it has been washed.
Make sure the microfiber mitt you use is washed properly. Using a dirty microfiber wash mitt will result in a dirty car.
Washing Your Car on a Really Windy Day
Another reason your car is still dirty after a wash is because of the windy weather. This might sound funny, but it is actually one of the most common reasons why there is residue on cars after you wash it. The wind carries dust and dirt with it that can stick on your wet vehicle easily. This may also affect your car's paint.
Therefore, if it's too windy postpone the car wash for another day.
We discussed popular car wash mistakes to avoid. It may take you some time but avoiding these car cleaning mistakes goes a long way. Following the proper way of washing cars results in an immaculate vehicle, free of all kinds of dirt particles and grime.
On the other hand, if your car is in really bad shape and needs maintenance all the time because of aging switching to another car seems like a sensible option. Take a look at these used cars for sale in the UAE.
If you liked what you read, stay tuned to your favorite cars blog for more on car detailing, car cleaning tips, and car maintenance.
whatsapp