Make Your Car Sparkle With These Expert Car Cleaning Tips
A well-maintained car says a lot about the personality of its owner. Nevertheless, driving dirty cars can also lead to serious fines in the UAE.
Dubai Municipality has laws to ensure that residents keep their cars clean, as dirty cars taint the beauty of their beautiful cities and immaculate roads. If a driver does not clean up their car, they can be charged with a fine of AED 500.
The UAE's weather is not too kind to cars. You can't take your vehicle to a car wash every week; therefore, it is best to learn to do the regular cleaning on your own. Cleaning your car personally with DIY car wash tips is not only far more gratifying but is also extremely cost-effective. All you need is to sort out the cleaning products.
This guide will help you maintain a tidy car and depend on no one but yourself to get the job done.
Tips for Interior Car Cleaning
If you're wondering how much it costs to clean the inside of a car, the answer is not much — provided you clean it yourself. Let's start with a step by step cleaning guide for your car's interior.
Clear Out All the Trash
The first and most basic step is to clear out all the trash inside your car. If you like to munch on snacks while driving or have children who eat in the car, you'll often find bits and pieces of snacks or wrappers in the car.
So before you pull out the cleaning supplies to clean your car, toss out all the trash including wrappers, crumbles of snacks, disposable water bottles, and tissue papers and even shopping receipts from your vehicle. You will likely find trash on and under the seats, in the crevices and on the car mats.
Clean The Seats
Often there are crumbles of food stuck between seats. If you're thinking about how to clean car seats, you will need to do it with a car vacuum cleaner or go by the traditional method and use a towel, car washing detergents and brushes for this task.
Dust the car seats and before you start cleaning them with water and soap clean the crevices with a brush, wrap a microfiber cloth over it and stick it in between the hard to reach areas of your car seats.
After this step, you can use a DIY car wash solution. Make a mixture of water and soap in a spray bottle. Spray it on the seats before wiping them with a dry cloth. Small towels also do the trick here.
If there are stains on the car seat or the mat, use a cup of vinegar and a tablespoon of dishwashing soap to get rid of them. Mix these two things with water in a spray bottle and spray it on the stained surfaces. Let it stay for 15 minutes and then wipe the surface with a clean cloth. Here are a few important tips to clean car seats without leaving water stains.
Clean The Carpet
If you have a vacuum cleaner, that is great – but if you don't that's fine too. Just toss out the trash littered on the carpets and dust them with a normal brush. Once dusted, you can clean the mats with general carpet cleaning detergents or use plain old soap and hot water to wash them. If sticky items like chewing gum or other road residue stick on the carpet, rubbing ice cubes works best to get rid of them. Allow them to dry out completely before placing them back in the car.
Wipe The Windows
You can get sparkling windows with a glass cleaner and a microfiber cloth. Just spray the glass cleaner on the cloth and gently wipe off the dirt from your windows and front mirror. Another tip to clean your windows like a pro is to horizontally wipe the exterior glass surfaces and vertically wipe the interior glass areas. This way you'll be sure you've cleaned the windows inside out, quite literally. After you're done cleaning the front windows and mirror, you can start cleaning the rear.
Clear The Front Panel
To clean the front console, it's best to use an all-purpose cleaner instead of a glass cleaner. It doesn't matter if you have a dashboard made up of leather, vinyl or some other material, first you'll need to take the dust out of the area with a vacuum cleaner or duster. Otherwise, the dust will mix with the cleaning solution and leave dirty streaks behind.
Spray a small amount of the DIY car wash spray or any other car care cleaner over the steering area, the gear, the break, the air panels, the dashboard, the console and the side panels, before wiping the dirt off. Using a water, soap and vinegar mixture also works just fine.
Use tiny brushes to remove dust from the air vent grills. If your car's door panel has open compartments or cup holders, make sure you clean the area thoroughly as well. Usually, this area has coffee stains etc. Wipe off all those stains with the DIY vinegar mixture or an all-purpose cleaner.
Sanitize and Freshen up Your Car
Last but not the least, once you are done with all the cleaning, sanitize all the areas of your car that come in contact. For instance, you use your hand on the steering, to switch on the ac or heater, the brake and gear lever and to roll down your windows. For your own safety and hygiene, spray these areas with a sanitiser.
As for keeping your car fresh, hang a car deodorizer from the rearview mirror to get rid of all unwanted stench from your car, caused by eating food or spilling water/coffee or any other drink in the car. These deodorizers neutralize all kinds of unpleasant smells. Additionally, is a list of essential interior car cleaning products to help you with the process.
Tips for Cleaning your Car's Exterior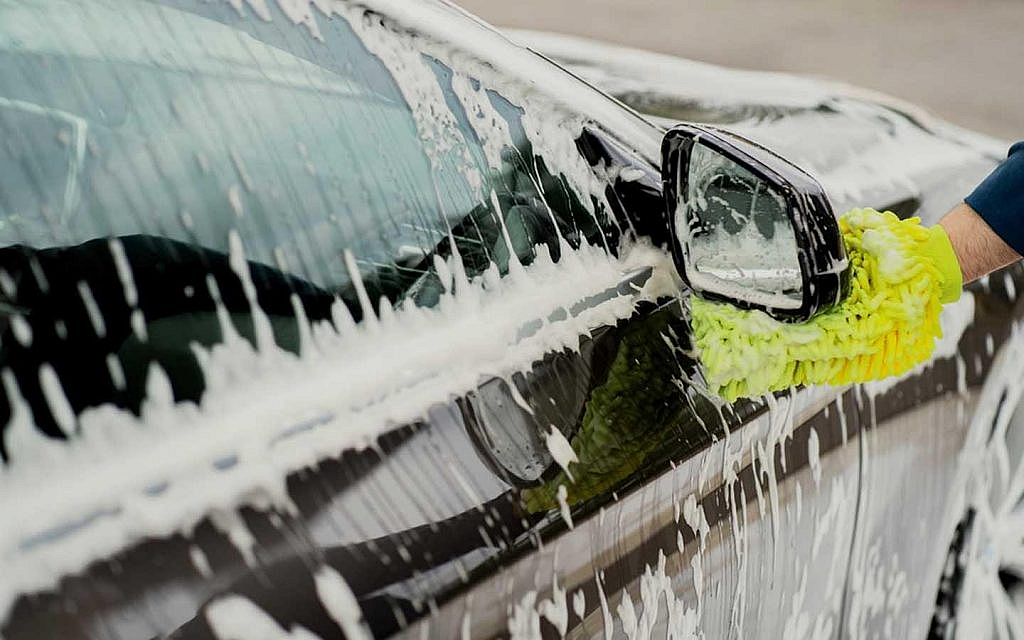 After the interior is all clean, here's how to clean your car's exterior.
Wash The Wheels
Wheels are naturally the dirtiest part of your car, covered with debris, trash and other particles on the road. Wash your wheels before you cater to the rest of the body. Throw almost a bucket of water on all your wheels. You can also use a garden hose pipe or spray.
Next, clean your wheel with cleaning chemicals. There are many wheel cleaning products out there but before you make a selection, consider the type of wheel your car has. If you do not want to use wheel cleaning products, just make a mixture with soap and water in a spray bottle and spray them on your wheels. Once you've sprayed the wheels with the cleaning solution, scrub them.
Scrubbing the wheels with a normal piece of cloth or towel isn't usually worth it, you will need a proper wheel cleaning brush or a washing mitt for this step. Once done rinse the cleaning material off the wheels with some clean water.
Clean Those Headlights
Wipe the grime off your headlights with a mixture of water and car cleaning solution with a moist cloth. Cleaning the headlight lens is also a necessary requirement while driving. Never compromise here, driving with untidy headlights can lead to road accidents.
Wash The Windows
Clean car windows not only make your car look better, but also improve visibility. The outer side of a car window is more exposed than the one inside. However, the cleaning process for both sides is the same. Start with using car window cleaners, spray the solution on a cloth (preferably a microfiber towel) and wipe it down. A normal soap and water mixture is also enough as if you are regular with the cleaning.
Rinse The Body
Finally, rinse the entire body of your car with clean water to remove the obvious filth stuck on the car including dirt, mud and dust. This will help remove the large pieces of dirt. Once done, add soap or car washing solution in a bucket of water and shower your car with it. Then rinse your car with clean water once again to wash away the soap.
Make sure you dry off the car before taking it out for a ride because dirt usually sticks to damp surfaces within no time.
Now that you know how to clean a car with these useful tips make an effort to keep your vehicles interior and exterior spic and span. To buy a variety of cleaning items, vacuums, car cleaning kits and pressure washers search through our classified section.
Moreover, here is a list of automotive tools for sale. These car tools help with car maintenance.
On the other hand, if you have tried all the aforementioned interior and exterior cleaning tips but your car still doesn't look like you wanted, it may just be the age factor. Buying another car in such a situation isn't a bad idea, here is a list of used cars for sale in the UAE.
Remember, cleaning is a great car care practice. Drive safe!
whatsapp