6 Useful Public Transport Apps in Dubai
Dubai is a city chosen by millions of visitors throughout the year. With so much to see and experience, roaming around the megacity can become a little overwhelming for the visitors. However, the city also has one of the world's finest public transport networks that makes getting around easier and cost-effective for visitors and residents alike.
If you are travelling from a different place or just moved to Dubai, you will need some help understanding the vast public transport network. This is where public transport apps in Dubai can help you.
Find out more about the various apps for public transport in Dubai below to to experience the Emirate with ease and convenience.
Best Public Transport Apps in Dubai
The following apps for Dubai public transport are particularly designed to meet the daily requirements of residents looking to commute from one end to another. The apps cover all significant routes alongside other salient features, making them an extremely useful tool for transportation. Other than transportation, it also provides information related to the new service timings of RTA during Eid Ul Adha and other holidays.
Let's take a detailed look at these apps for Dubai public transport:
RTA Public Transport Dubai App
As suggested by the name, the Roads and Transport Authority has developed the RTA Dubai app (iOS | Android) for the public transport. The RTA app in Dubai is one of the most famous, time-saving apps for commuters using public mode of transport. Besides saving time, it benefits users with a range of online ticketing facilities such as nol (electronic ticketing) card facilities.
Available on the RTA app, nol offers smooth online transactions to facilitate travel all around Dubai. On top of it, the RTA transport app allows users to check the timetables for metro, tram, bus, water bus, as well as their nol card balance, thus making transport extremely convenient for all.
The application comprises a total of 26 informational, interactive, and transactional services that facilitate users to seamlessly get around the city. Commuters can also accumulate 'Green Points,' which is a travel reward scheme for travellers using the app regularly.
Key Features of RTA Transport App
Informs about NOL card balance and offers top up facility
Gives access to NOL card transaction history
Allows you to apply for personalized or special designed NOL card
Let you track the current status of online applications submitted
Manages your e-Wallet account
Informs you about expiry and renewal of travel pass
Reports a technical issue and provides feedback
Offers secure online payments on the app via mPay and ePay
Locates the nearest RTA centre with GPS functionality
Gives reward through collection of "green points"
The application size is 101.1 MB (iOS) and has no cost of downloading.
Careem Dubai
Well-established as the first choice for car booking apps in the Middle East and North Africa, Careem Dubai (iOS | Android) has long dominated as the best public transport app in Dubai and beyond. It is hassle-free and extremely personalized with the availability of options to select a car according to preference and affordability. Moreover, you can also schedule your ride by choosing between options like "ride now" or "schedule a ride for later."
Once you have customized your ride, you can tap on "Yallah!" to confirm the booking. Details including designated Captain, car, estimated arrival time and route to the destination will be generated alongside the notification for booking confirmation.
Quite rightly so, Careem is counted amongst the best public transport apps in Dubai for it allows customers to share real-time locations with friends and family as well.
Key Features of Careem Dubai App
Flexibility to choose when and how to ride (choice of cars and bikes)
Track of real-time location of Careem car
Details about the Captain and booked car
Easy payment through cash, credit card, or Careem credits
Provides a fare estimate before ride (however, this may change depending on the rush hour)
Fool-proof GPS system enables accurate pick-up and drop-off
Efficient round-the-clock customer support service
Available in English, Arabic, French, and Turkish
The Careem app size is 148.2 MB (iOS) whereas 37 MB on Android. It is free to download.
Hala (Dubai Taxi)
Hala, which is one of the Dubai taxis operating across the city. It allows residents to commute from one place to another at a standard fare. Hala taxi can also be booked via the Careem app with the benefit of viewing fare estimates upfront, enabling payment through cash, card or Careem credit.
You can book Dubai Taxi (Hala) via Careem app in the following steps:
Download the Careem app and create an account
Select "Hala Taxi" as your choice of ride in the Careem app
Select the location from where you want to be picked up. If it's your current location, you can simply click on 'Confirm pickup' to let your GPS share your location with the driver
Enter your drop-off destination next
Choose between 'Hala (Dubai Taxi)' or 'Hala Van (Dubai Van)' from the list of car types as per your need
Select card, cash, or Careem credit as your payment option.
When you're ready to ride, tap on "Yallah" and track the arrival of the Captain
Details about the Captain coming to pick you up are provided as soon as you book so you know who to lookout for
Key Features of Hala Taxi App
Provides estimated time of arrival
Same price per km as street-hailed RTA taxis
Collection of Careem points for every ride
Multiple payment options including cash, card, or Careem credit
Sharing of ride details with others
24/7 sanitization
Availability of hand sanitizer in every taxi
Fast pickup service (within 3 minutes of booking)
Hand-free payment options via app
Instant safety feedback
The size of the application in iOS is 148.2 MB whereas 37 MB in Android. It is free to download.
Uber UAE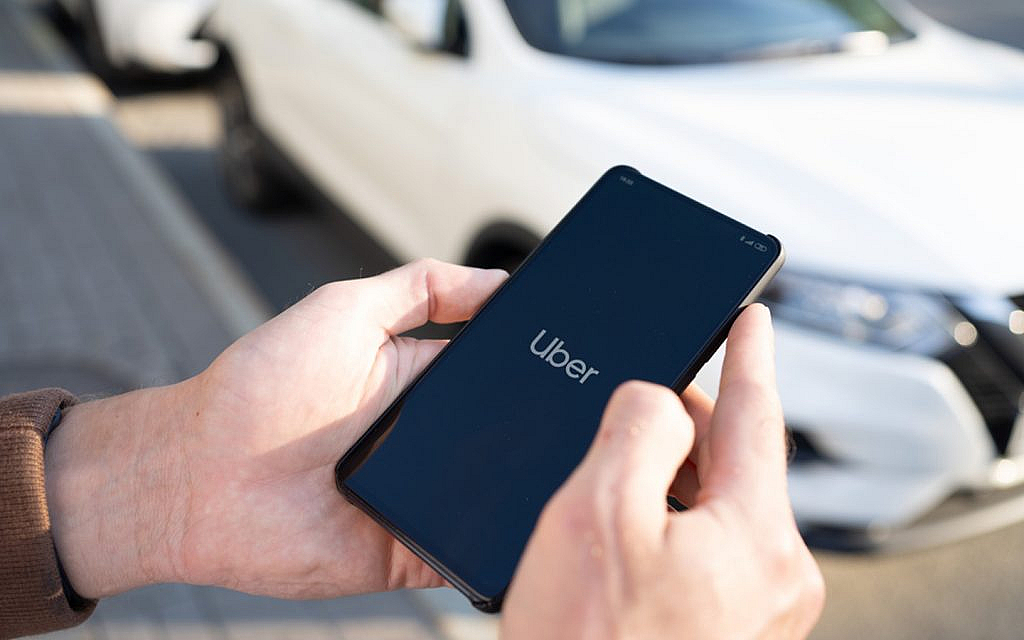 Another competitive ride-hailing service is Uber (iOS | Android), internationally acclaimed for its super-easy and fast service for transport. The Uber UAE app is extensively used by thousands of customers to connect with available riders within minutes as they hurry to catch flights or rush to get home after a tiring day at work as soon as possible.
Besides, Uber UAE can even arrange a 15-minute helicopter tour of the entire Dubai. You can pre-book UberCHOPPER, also referred to as Helicopter Taxi, to take a tour of the city from the top.
Key Features of Uber UAE App
Hassle-free pickup and drop-off
Wide range of ride types
Readily available at Dubai International Airport
Sky-touring with UberCHOPPER
Allows splitting of ride fare with 'ride sharing' option
Available in multiple languages including English, Arabic, and French
Uber UAE application's size is 353.3 MB in iOS and is free to download.
S'hail
S'hail (iOS | Android), call it a complete package of transportation services packed into one platform. Whether you want to book a Careem captain or Uber driver, the S'hail app has you covered. Besides being integrated with the top transportation apps, S'Hail provides information related to tram, Dubai Metro (red or green line), buses, as well as options for taxi booking in Dubai or limousine.
What's more; S'hail goes the extra mile to help you decide between choosing a taxi or limo (when you can't) by giving real-time traffic updates for you to judge better. It effectively customizes trips according to the preferences of the users with surprising accuracy.
Key Features of S'hail App
A simplified platform for online booking of rides including 'Ekar' and 'UDrive.'
Provides schedules for Dubai metro, tram, and buses
Provides fare estimates based on current rates
Provides real-time traffic updates
Available in English and Arabic
Fortunately, the S'hail app does not occupy too much of your phone's memory. It is of size 70.5 MB in iOS and 16 MB in Android. Needless to say, it's free to download.
DTC Smart App
The last on our list is the smart DTC app that is intended to facilitate customers with reserved taxis and limousines in seamless transportation service. Integrated with Dubai Taxi Corporation's Control Centre, the DTC smart app is aligned with the Reservation and Distribution Centre at the Public Transport Agency at the RTA (Roads and Transport Authority). It achieves this through advanced technologies, enabling the booking of rides and customer requests for various transportation in a smooth, hassle-free way.
Booking a Ride with the DTC Smart App
Select and reserve the vehicle of your choice from a fleet of available vehicles
The DTC smart app searches for the nearest vehicle around the entered location and automatically sends it to the customer
Travellers are required to pin their locations on the map and select the pickup location
Payment can be done directly via cash or through a credit card
New and innovative services are consistently added to the app to provide more options for users and enhance their travelling experience in Dubai.
Key Features of DTC Smart App
Comprises of a range of vehicles including taxis, limos, and other delivery services
Provides real-time calculation of fares and direct tracking of the flight path
Allows instant reservation as well as rescheduling of reservation in three simple steps
Easy down, installation, and easy usage
Professional drivers (male and female both)
Availability of discount packages
Availability of cash and credit card payment options
Safe, modern, and comfortable vehicles
Availability round-the-clock
Free Wi-Fi
Safe payment methods
Quick customer support
The DTC smart app is of size 16 MB on Android and free to download. That's about all the public transport apps in Dubai that we can recommend to any traveller or resident in the city. Using these e-services for transport, you can enjoy a hassle-free ride around the city anywhere and at any time. These apps for public transport in Dubai are cost-effective and efficient.
However, if you are new to the city and plan to live here, then you may opt to buy your own car for your daily commute. There are several second-hand vehicles in Dubai up for sale.
Besides, a wide array of used cars for sale of different international automakers, well-known globally are listed for sale. A few from the list are:
Stay tuned to UAE's top auto blog for more information about different driving apps, public transport and traffic laws.
whatsapp