Absence of Airbags in Racing Cars
It is an interesting fact that racing cars have no airbags, despite being driven at extremely high speeds. Race car drivers take calculated risks for the sake of sports. They drive at a speed at which crashes can be fatal if not for proper safety measures. Modern day race cars have gone through multiple innovations to make them safer. And one such innovation is the replacement of airbags with other features.
Even with the rise of safety standards, racing cars like Formula 1 and NASCAR, don't incorporate airbags. This is because the paramount safety measures in race cars don't require the use of airbags.
Airbags in Racing Cars
To understand why racing cars have no airbags, we have to look at the functionality of airbags. Apart from Formula 1, in the past, racing cars were like average standard cars. In time, modifications were made to make them safer and more durable.
With each year of innovation, airbags became redundant due to alternative safety features and mechanisms in the racing cars. However, a key factor that forced racers to remove the airbags was its functionality.
Airbags depend on the crash sensors to get deployed in the case of a car crash. They are designed to trigger when a car collides with an obstacle or another car. The crash sensors can measure various parameters including, vehicle speed, deceleration, brake pressure and intensity of impact to deploy airbags accordingly.
In race cars like in NASCAR, the airbags serve only to hinder the driver's performance in contrast to the effectiveness of other safety measures. During a race, such cars can take major bumps and hits, which can prematurely deploy the airbag and distract the driver.
This does not remove the fact that participating in events like NASCAR, there is always a risk of fatal and serious injuries. However, with the enforcement of driver-focused safety features, the last known fatality was back in 2001.
Nascar Alternative Safety Features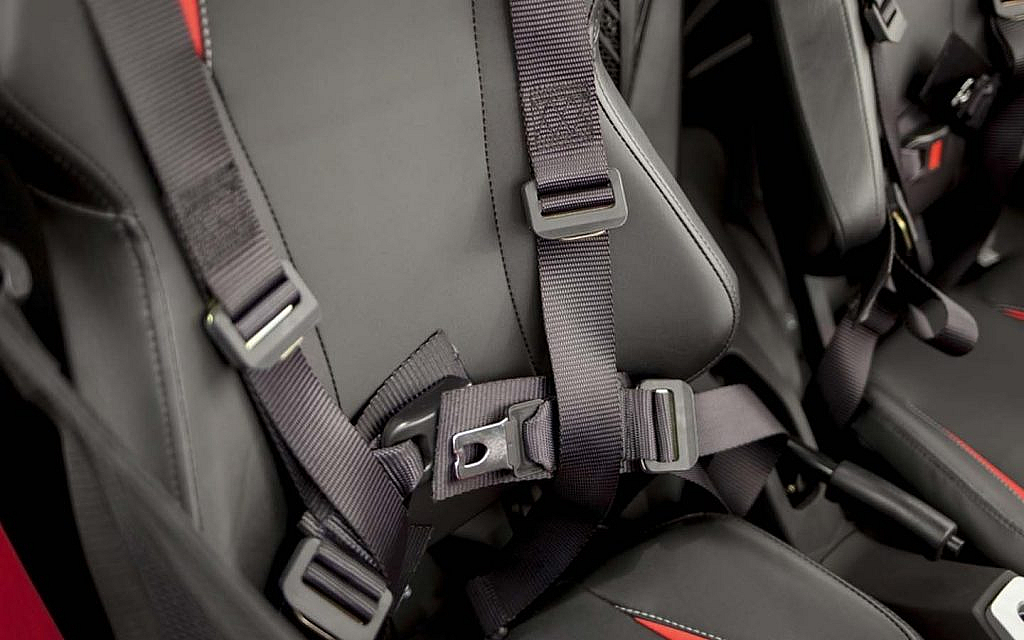 Let's take a look at some essential safety rules and features that have made NASCAR a safer racing platform:
Seats
The driver seats have evolved to become more shock absorbent by incorporating the use of carbon fibre. The seats are designed to wrap around the driver's rib cage in addition to shoulder coverage for added crash protection.
HANS device
Although seats provide effective protection against backward motion, NASCAR makes use of six-point seat belts to protect against forward motion. The Head and Neck Support (HANS) device secures and restrains the driver's helmet to the seat. This offers protection against whiplash injuries in case of a crash.
Roof Flaps
Roof flaps are added to keep the car on the ground or from flipping off the track. The aerodynamic feature becomes a lifesaver when a high-speed race car spins out of control and the airlift causes it to go airborne. Hence, the flaps disrupt the airflow to mitigate lift and optimise the downforce.
Window Nets
The purpose of window nets is to keep the driver's arm and head inside the car. In case of crashes, window nets prevent the driver's arm from dangling outside and protects the driver from flying debris.
Apart from car's safety, NASCAR incorporates some additional safety precautions for the drivers, including:
Racing Suits – Fire-resistant suit protects the driver from fire whereas the helmet does not only offer protection but keeps the line of communication between the spotter
Spotters – Since NASCAR don't use external mirrors as it offers distraction and can be useless due to body vibrations, spotters are deployed to relay information through radio
Track Barriers – Also called SAFER barriers, are outfitted along the road tracks to provide energy absorbent walls and are usually expensive to install
Airbags in Formula 1
Unlike your average racing car, Formula 1 cars are designed for exceptional cornering and gripping capabilities. Although Formula 1 incorporates various safety features that negate the need for airbags, the problem starts when you are looking to even install one.
For most standard cars, airbags are usually installed in the steering wheel. Formula 1 has an exceptional steering wheel as it has several clusters of knobs, switches and check lights, hence, there is no space to install an airbag.
Even if you find a way to install an airbag, the small cockpit will just block the driver with no way to escape after a crash.
Like most race cars, Formula 1 makes use of six-point seat belts that secures the shoulder, pelvic and legs with straps. In fact, the small cockpit design allows for minimum movement, just enough for the driver to handle the steering wheel and control its buttons.
Drivers are even unable to fasten seatbelts themselves as they are immersed in the cockpit. However, the seat belts can be released with a simple twist of hand by the driver in case of an accident.
The rigid cockpit shell does not allow the driver to move or be flung away during an accident. Additionally, the use of specialized fire-resistant helmets that can withstand heavy force, makes the purpose of airbags become redundant.
Race cars are modified and designed for driver safety. Airbags are essential for protection against crash injuries. However, race cars employ other tactics and safety features to protect the driver.
Since drivers are completely secured with six point seat belts, reinforced body design, HANS device and window nets, there is no use of airbags, which will only serve to distract drivers if deployed due to a bump on a speed run.
As racing cars are not meant for the streets, you can explore used cars for sale to find compatible sports cars for sale in the UAE.
Stay tuned to our auto blogs for more information on car parts, market trends, repairs and auto technology.
whatsapp